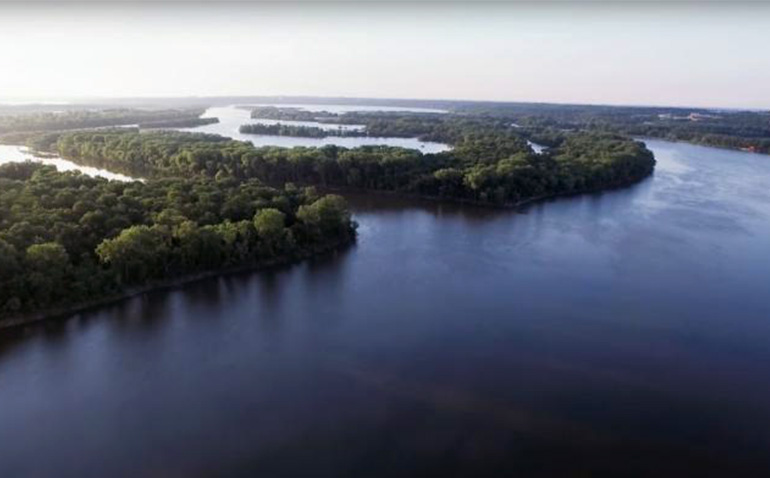 WATER, WATER EVERYWHERE: Part 2
Over the past 3 years, Bigger Pie Forum has explained that waters in the Lower Mississippi River (LMSR) rose gradually during the 1970s and 1980s, then more rapidly since 1989.  (see Chart 1)
The result has been higher average river stages (water levels) and in the batture — the canary of LMSR — more frequent and longer flooding.  The batture is the land between the river and the levees or, where there are no levees, the hills and high ground.
There are no levees on the Mississippi side of MSR below Vicksburg down to near Baton Rouge.  Below Natchez, the cliffs end and the hills are several miles from the river.  Hundreds of thousands of acres of batture in Mississippi and Louisiana have witnessed the rising river up close.  Bigger Pie has sounded the alarm and others have heard it.
Chart 1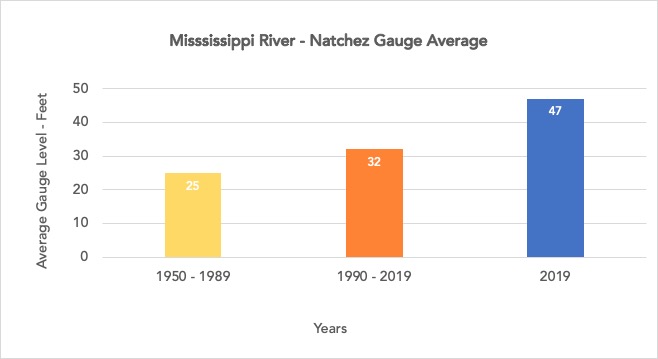 The Lower Mississippi River is above flood stage again, sixteenth section lands are flooded and the batture below Natchez and for stretches of Louisiana have been underwater for months.  The Lower Mississippi Delta is getting heavy rain again.
From last quarter 2018 through third quarter 2019, one year, most of the LMSR batture lands were flooded for about 300 days or 85 percent of that 12 month period.  While this has been the worst year, the days below water for the batture have been increasing since 1990, but rapidly since 2008.
Chart 2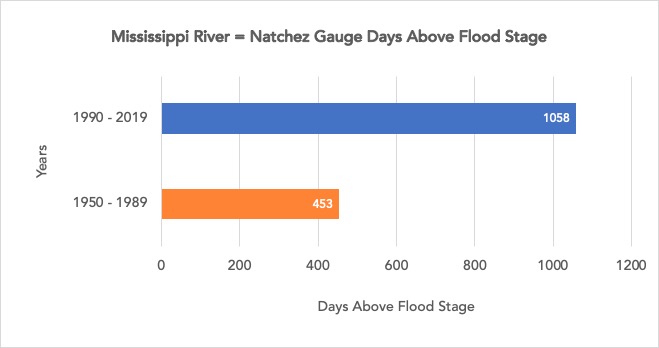 In 2019,  Delbert Hosemann — then Mississippi's Secretary of State, sued the U.S. Army Corps of Engineers in federal court under the takings clause of the U.S. Constitution.  The cause was more and longer periods of flooding sixteenth section lands along the Mississippi River and tributaries which has diminished the economic value and economic return to schools.
Five days after the State of Mississippi suit, Kelley Williams sued in federal court for takings of his Adams County, Mississippi land in the batture.  The Williams' lawsuit has been joined by 516 other private landowners and others are considering joining.  The court has combined the suits which represents 465,000 acres.
February 6, 2020, the federal judge for the case, dismissed the Corps of Engineers attempt to have the cases dismissed for lack of standing.  The judge affirmed standing for the State and private parties, then piled on after the whistle by expediting the case.
The batture lands along the river are a harbinger of a changing river that is less and less under control of the Army Corps of Engineers.  The Corps' operating window is rapidly closing to simultaneously prevent increased flooding up river from Baton Rouge to Cairo, avoid flooding New Orleans, maintain the flow split at Old River Control Structure, avoid seafood kills in the Mississippi Sound and maintain Baton Rouge as a deep water port.
The State of Mississippi and Williams' lawsuit will be one of many as the Mississippi River does what nature does—win.
To sign up for MS River Updates from BPF, subscribe 

here

.