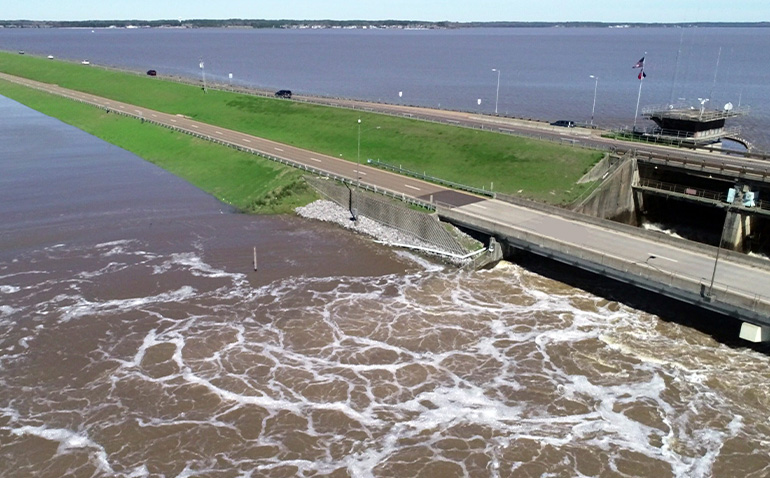 WATER, WATER EVERYWHERE: Part 1
In 2020, it's the Pearl River flooding the Jackson Metro area and downstream.  The Big Black is flooding as well as lower stretches of the Mississippi River.   Large numbers of Jackson area residences have evacuated their homes without knowing what they'll find upon returning.  Many will lose their homes and hundreds will have extensive damage.  The Ross Barnett Reservoir reached capacity Sunday, February 16th.  Fortunately, there has been a break in the rains allowing slower release of water from the reservoir which will reduce peak flood height if heavy rains hold off a couple days.   A 6 inch lower crest, if sustained, will reduce damages significantly.  For my sister, it'll be the difference between 5-6 inches of water in the entire house or perhaps none in the house.
In 2019, it was the Yazoo River flooding the Lower Mississippi Delta, as well as flooding along the Missouri and Lower Mississippi Rivers.
Heavy rains, poor urban planning and mismanagement of runoff from interior America to the Gulf of Mexico and the oceans results in more frequent, higher and longer floods.  This is true of the Belhaven neighborhood in Jackson, the Lower Mississippi Delta or Houston, TX.  Expect the trend to continue.
The Mississippi River watershed includes most of the region between the Rocky and Appalachian Mountains.  Since the 1980s, average precipitation across the Mississippi River Basin has increased only about 5% but the upward trend toward more precipitation continues.  Coupled with the modest but increasing amounts of rain and snow is a shift to more frequent extreme precipitation events.  The number of 2-day precipitation events exceeding the 5-year recurrence interval has almost tripled since 1980.  The amount of total rain which falls in extreme events has increased sharply since 1980.
A modest but rising increase in total precipitation occurring disproportionately in very heavy or extreme events is exaggerated by building practices and poor management of runoff.
It's hard to say how future weather might change but major shifts in trends, such as the last 40 years, generally don't reverse quickly.  A major rethinking of water runoff management, especially for urban areas, is needed and it appears Mother Nature will press the point home.
Part 2 Coming Soon-
Flooding by the Pearl River is not affected by Mississippi River conditions; however, flooding for much of Western Mississippi and most of the entire region between the Rocky and Appalachian Mountains are.  Water, Water Everywhere Part 2 will review steps some landowners are taking along the Mississippi River.
To sign up for MS River Updates from BPF, subscribe 

here

.