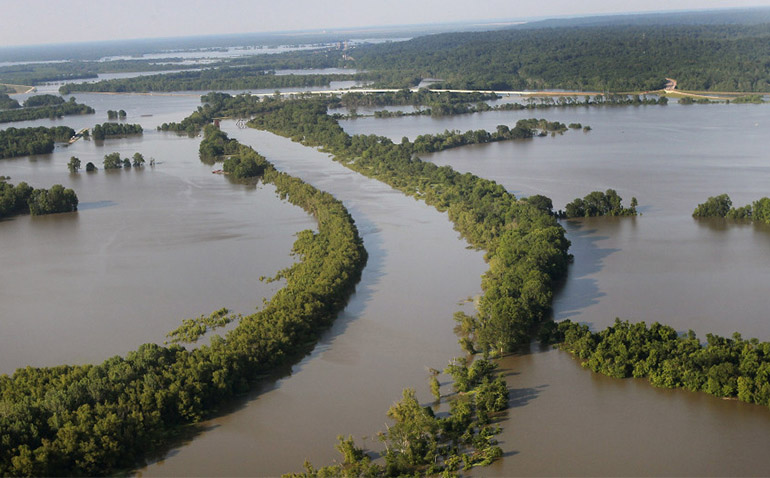 BPF's View on the Yazoo Backwater Pumps
About 600,000 acres in the Delta is flooded from rainwater trapped outside the Mississippi River levee. Rainwater in the Yazoo Basin can't flow into the river when it's above flood stage.
Another 600,000 acres in Mississippi inside the levee is also flooded.  It has been flooded longer and higher than the Delta by the river which has been above flood stage and outside its channel since January.
This flood is the longest ever because of more rain and not enough discharge to the Gulf.  God sends more rain.  The US Army Corps of Engineers restricts its discharge.
The Pumps will pour water out of the Delta's boot over the levee at Vicksburg onto people below.  They will make flooding higher and longer inside the levee.  Landowners in the Delta outside the levee will benefit.  Landowners inside the levee will suffer.
The pumps won't increase the discharge to the Gulf. They just pass the flood downriver onto someone else. That's the history of other divisive Corps flood control projects.  That's why the river is full now.
It's time to increase the discharge to the Gulf at the Old River Control Structure down the short steep Atchafalaya River to lower ground to the west.  And to decrease the discharge to the east at the Bonnet Carré which protects New Orleans.  It's discharge harms marine life in the Mississippi Sound and reduces flooding very little upriver.
More flow down the Atchafalaya will lower the Mississippi and decrease flooding.  It will benefit those inside and outside the levee.  We need to stand and work together on this.
To sign up for MS River Updates from BPF, subscribe

 

here
.