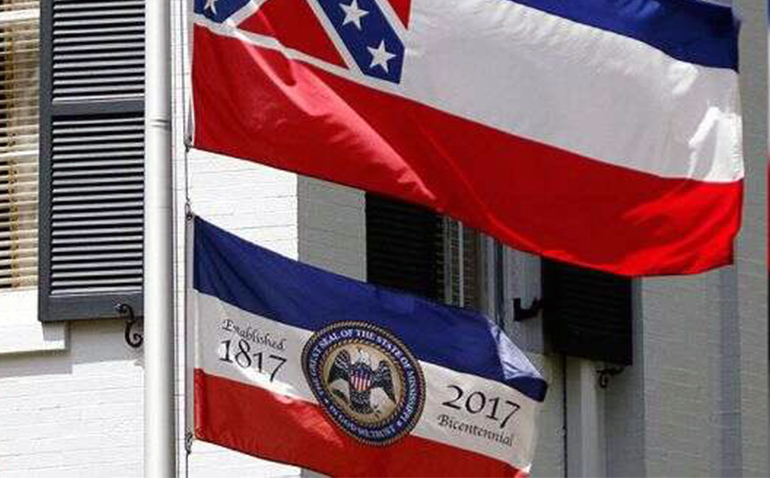 The Process for Changing the State Flag
The Process for Changing the State Flag
On Sunday, June 28, 2020, the Mississippi Legislature passed a historic bill to retire the current state flag and to establish a process for creating a new one.
There has been some confusion about the process of changing the state flag of Mississippi. Here is what that bill calls for.
When the governor signs the legislation, the current state law that establishes and describes the design of the state flag will be immediately repealed.  Until a new one is adopted, we will have no official state flag.  And life will go on.  (The governor has until July 4 to sign the bill.)
A commission to propose the design of a new flag will be appointed, composed of:
3 members appointed by the Speaker of the House;
3 members appointed by the Lieutenant Governor; and
3 members appointed by the Governor, specified as follows:

A representative of the Mississippi Economic Council (MEC);
A representative of the Mississippi Arts Commission;
A representative of Board of Trustees of the MS Department of Archives and History.
The commission will meet, invite public comments, and choose a design for the new flag by September 14.  There is no pre-selected design.  The only stipulations for the new design are: (a) it must not include the confederate battle flag, (b) it must include the words, "In God We Trust," and (c) it must "honor the past while embracing the promise of the future."  Other than that, the commission is free to choose any design it wishes.
The new design will then be on the ballot this November 3 for voters to express their opinion.  It is technically a special election, but it will occur at the same time as the presidential and congressional elections.
If a majority votes for the new design, the legislature in January will pass a law establishing and describing the design of the new flag as the official state flag.
If a majority votes against the new design, the commission will reconvene and choose another design.  That design will be placed on the ballot of a special election in November 2021.  (The legislature can easily change the date of this special election if they choose to, which would make sense, since there is no statewide general election in 2021.)
The state's Department of Archives and History (DAH) is to develop a plan for the "prompt, dignified and respectful removal" of the now-former state flag, which is to take place within 15 days of the governor's signing the legislation.  The speculation is that DAH will conduct a ceremony to remove the flag now flying over the state Capitol and take it to the Mississippi Museum of History, where it will be displayed in what will likely be a permanent exhibit.
To sign up for updates from BPF, subscribe here.