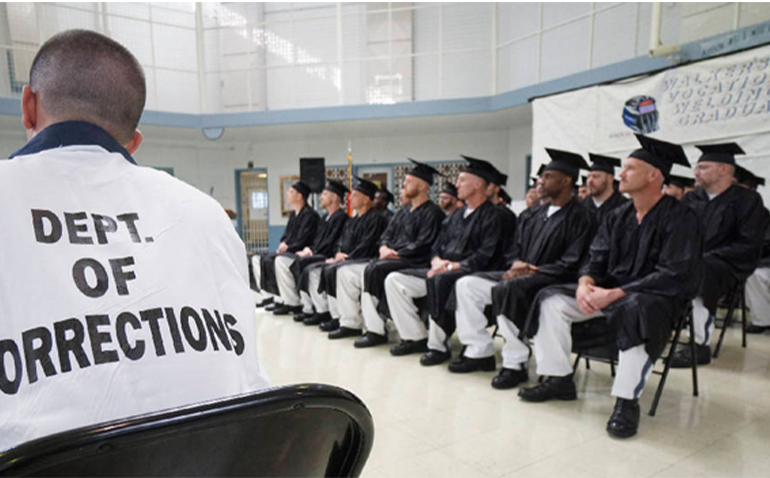 Stopping Our Revolving Prison Door
In an unusual move, four legislative committees, two in the House and two in the Senate, are jointly holding a series of hearings to explore ways to reduce recidivism, which is the return to prison by former inmates due to their committing another crime or violating the terms of their release.
A new report from the U.S. Bureau of Justice Statistics says 71 percent of prisoners released in 2012 were arrested within five years of their release for committing another crime or violating their parole.  Worse, 81 percent of those age 24 or younger when they were released were arrested within five years.  For Inmates released at age 25 to 39, 74 percent were arrested within 5 years; for age 40 or older, 61 percent.
Reducing the number of technical violations would be a big part of any recidivism reduction program.  These are violations of the conditions of their release, such as a failed drug test, missing a meeting with their parole officer, etc.  According to a report released in January 2020 by the state's Corrections and Criminal Justice Oversight Task Force, technical violations (of both parole and probation) following reforms passed in 2014 initially increased from 36 percent of all admissions to 43 percent, though the annual rate of increase has slowed substantially.
Most researchers and advocacy groups from all points on the political spectrum now agree that more needs to be done to prepare prisoners for life after prison.  In order to avoid going back to their old ways, people who are released need to be equipped to find and keep a job.
This year, the state legislature passed a bill to make it easier for former prisoners to obtain a driver's license upon release.  These "provisional" six-month licenses allow the person to drive only to certain places, such as a work place, a church, a parole office, etc., until they can obtain a regular driver's license.  An earlier reform allows meetings with probation and parole officers to occur via FaceTime or Skype (or similar app), which keeps the person from having to leave their job for such meetings.  This helps them keep their job and also reduces the likelihood of a technical violation for missing a meeting, which could ultimately send them back to prison.
Other states have taken a variety of approaches to the "re-entry" process.  For example, Ingram State community college in Alabama is devoted entirely to the education of the incarcerated.  This program helps those within 18 to 24 months of release earn their GED and vocational training and has a 100 percent success rate of placing ex-convicts into jobs with the vocational skills they obtained in prison.  Alabama's recidivism rate for reentry program participants is 28 percent, far less than the national average.
Mississippi Corrections Commissioner Nathan "Burl" Cain is rolling out a vocational training program in Mississippi prisons that would allow prisoners to learn skills in welding, driving a forklift, or auto repair.  Inmates could even earn their Automotive Service Excellence certification, which would provide a profitable career.
Re-entry programs will initially require additional funding, but that cost will be recouped many times over the long run.  Until this year, the cost of corrections has been declining because of parole reforms and other measures that have reduced the prison population somewhat.
But Mississippi still has the second-highest incarceration rate in the country, driven in large part by recidivism.  Using some of the savings of the reduced prison population to fund re-entry programs is a sound investment the state should make.
Other conservative states have seen a reduction in their prison population and a simultaneous reduction in their crime rates by reforming sentencing, parole, and re-entry.  Mississippi has done some of the former two, now it's time to do the latter.
Getting reentry right will not only save Mississippi taxpayers millions of dollars in the long run, it will give inmates a second chance to become productive citizens and to support their families.  It's a rare policy prescription that is a triple win for the safety of our communities, the pocketbooks of taxpayers, and the families of those who will have a new lease on life.
Sign up for BPF's latest news here.