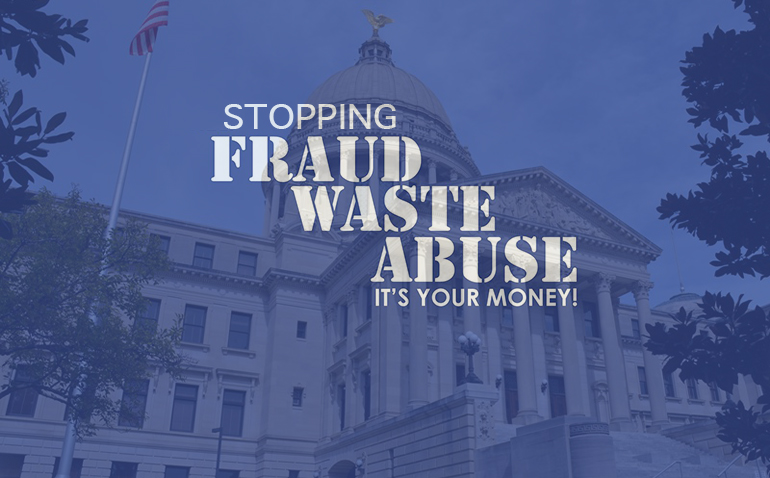 State Agency and Program Provider Waste, Fraud and Abuse — More Change Is Needed
In the endless debate over the amount of government assistance given to the poor, one factor that is not frequently discussed is the waste, fraud and other abuse that is perpetrated by providers of these programs – and sometimes by the agencies that fund them.
That lack of attention changed in 2020 when a massive fraud scheme at the Mississippi Department of Human Services (DHS) was discovered.  DHS manages several welfare programs statewide, including the Temporary Assistance for Needy Families (TANF) Program and the Supplemental Nutritional Assistance Program (SNAP), better known as food stamps.
TANF programs are intended to help low-income families with children achieve economic self-sufficiency.
Both the Office of the State Auditor and the U.S. Attorney's office began investigations into widespread fraud at DHS that allegedly occurred from 2016 to 2019, leading to the indictment of the former executive director of DHS and – so far – five others who were contractors for DHS programs.
Under new leadership in 2020, DHS hired forensic accounting firm CliftonLarsonAllen LLP to investigate any fraud or waste in the program.
Their newly released audit has uncovered millions of dollars in questionable spending.
Several family members of then-director John Davis, who helmed DHS during the alleged misspending, received more than $1.1 million in either leases, contracts, or employment. Former professional wrestlers Ted DiBiase, his sons Ted, Jr., and Brett, and their businesses received more than $5.7 million, including $160,000 to a luxury alcohol and drug rehabilitation facility in Malibu, California.
There were also leases for warehouses that were paid for but never used, and payments made for 7-on-7 football camps in Atlanta, Georgia, out of TANF funds.
The grand jury indictment accuses six individuals in a scheme to steal approximately $4 million in TANF funds, but the likely amount of questionable spending might add up to as much as $98 million.
In the classic Godfather Part II, neighborhood Mafia boss Don Fanucci tells a young Vito Corleone that he wants a piece of his crew's take from several burglaries.
"Tell your friends I don't want a lot. Just enough to wet my beak."
According to the fiscal year 2022 appropriations bill for DHS, more than $100 million will be spent by the department on "contractual services" and commodities.  As seen in the Department of Corrections scandal in recent years, and now the DHS scandal, state agency heads and their friends can indeed wet their beaks on insider contracts for services and commodities.
The beak-wetting is not limited to illegal activity.
In his book, The Poverty Industry: The Exploitation of America's Most Vulnerable Citizens, law professor Daniel Hatcher describes how a plethora of organizations benefit more from government poverty programs than the poor they were ostensibly created to help.  These organizations largely operate within the rules, if not the stated intent, of these programs.
It should be easy for both sides in the debate of the amount of taxpayer assistance to the poor to agree that stamping out waste, fraud and abuse needs to be prioritized.  Not only do recipients need to be legitimate, the groups that participate in these programs need to be heavily vetted to ensure that they're using taxpayer funds as intended.
Sign up for BPF's latest news here.