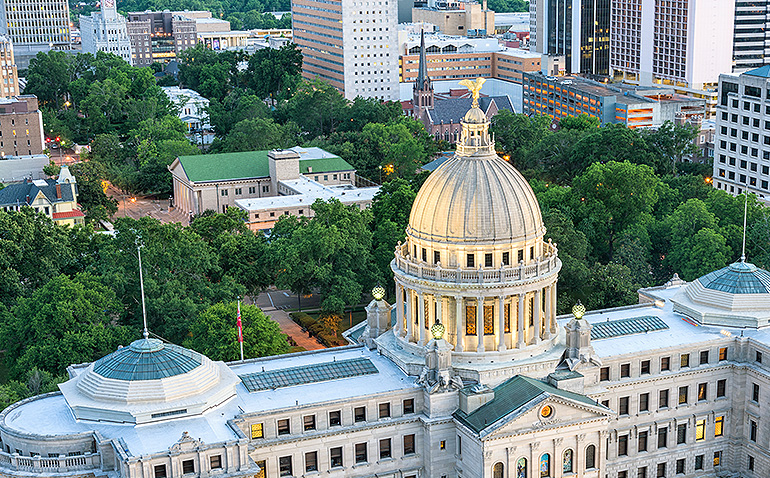 Mississippi's Legislative Session 2020
Legislative Session 2020
Mississippi's legislative session began Tuesday, January 7th.  Since 2019 was a statewide election, this year's session will be a month longer with a scheduled end on May 10th. With a longer session, deadlines for bills are pushed back as well.  February 24th is the deadline for bills to be introduced and March 10th is the first deadline for bills to be passed out of committee in the originating chamber.
With the "conservative party" dominance from top to bottom, 2020 is a great opportunity to enact pro-growth policies that would accelerate Mississippi's economic growth.
A good starting place would be reforms of burdensome regulatory processes to include the state's far-reaching Certificate of Need (CON) program that oversees so much of the state's healthcare services and providers.  Mississippi's healthcare economy needs competition, innovation and more consumer choices.  The current CON setup protects the status quo to the detriment of much needed change that comes from a competitive playing field.
Another priority for the Legislature should be to improve how agencies, boards, and commissions issue regulations.  According to the Mercatus Center at George Mason University, it would take 13 weeks, utilizing 40-hour workweeks, to read every one of the code's 9.3 million words and 117,558 restrictions.  There are far too many restrictive regulations on the books in Mississippi.  Such regulatory restrictions strangle economic growth.
The federal government has set a good example.  President Trump issued an executive order in 2017 designed to pare down the voluminous federal register.  Under the order, if a federal agency wants to make a new rule, it has to eliminate two regulations before enacting the new rule.  This forces agencies to re-evaluate their regulations and priorities.  According to estimates, the policy eliminated $13.5 billion in regulatory costs in fiscal 2019 and could generate savings of $51.6 billion in fiscal 2020, which began in October.
Like barnacles on a ship, layers of restrictive regulations have built up and most have never been re-evaluated for their economic impact, usefulness, or relevance.  The one-in, two-out model forces agencies to take a longer look at their regulations and prioritize ones that are still relevant while eliminating those that aren't.  A two-out, one-in law would reduce compliance costs for businesses and create a more can-do environment for entrepreneurship.
Another area ripe for change is the state's certificate of need (CON) program, which has evolved into a centrally planned healthcare system that favors the established players while shutting out newcomers.  CONs were intended as a way to cut ever-increasing healthcare costs and were imposed on states by the federal government in 1974.  Once the data showed the feds that such a policy actually increased healthcare costs, the CON mandates were allowed to expire.  Unfortunately, many states maintained the laws, which now frustrate efforts to innovate and adapt.
Reform or even elimination of Mississippi's CON regime could help the state's struggling rural hospitals.  According to research from Mercatus using 25 years of data, states with CON laws have 30 percent fewer rural hospitals per 100,000 residents.  Healthcare providers need approval from the state Department of Health for a large range of moves, from building a new facility to even adding new beds at an existing location.  Mississippi has 35 laws that govern its certificate of need program.
Florida's CON reform signed into law by Gov. Ron DeSantis could be a path forward for Mississippi.  The reform eliminated CON requirements for general hospitals, rehabilitation beds, and tertiary hospital services such as neonatal intensive care units and organ transplant centers.  In 2021, Florida's CON requirements for specialty hospitals will sunset.
Twelve states have axed their CON programs altogether and five states (Florida being the latest) have adopted reforms that limit CON programs.  Following the Sunshine State's example would allow new players to enter the marketplace, bringing innovations and cost reductions, driven by the enhanced competition.  It would also reduce compliance costs (since navigating the waters of CON approval requires expensive billable hours for attorneys) and ensure that more healthcare dollars are spent on patients and less on red tape.
With fresh faces in just about every statewide office, 2020 provides a great opportunity for a fresh look at reforming state policies and jump-starting the state's tepid economy.
To sign up for updates from BPF, subscribe here.