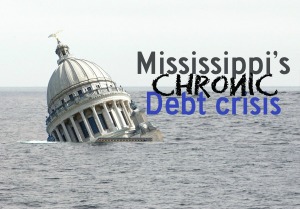 Mississippi plagued by stagnant economy and growing debt
By Steve Wilson  /   February 24, 2016 / www.MississippiWatchdog.org
A briefing on Mississippi's economy given by the state economist and treasurer to leaders of the legislature on Wednesday reveal a stagnant economy and a growing debt.
State economist Darrin Webb said the state's economy grew 1 percent in 2015, which was substantially lower than the national average of 2.4 percent. He projected the state's economy will expand by 1.9 percent in 2016 and 2.2 percent in 2017, after growing an average of between 0.7 and 0.9 percent from 2010 until now.
State treasurer Lynn Fitch said Mississippi's bond indebtedness has increased from more than $3 billion in 2006 to a figure estimated at more than $4.3 billion this year. If the state were to stop borrowing today, Fitch said it would take 37 years for the state to pay off its debt.
That debt doesn't include the Public Employees' Retirement System of Mississippi, which is only 60.4 fully funded according to its most recent comprehensive report. That's down from 61 percent the year before.
No major reforms of PERS were proposed in this year's legislative session, despite the defined-benefit pension system carrying $16 billion in unfunded liabilities and dipping far below an 80 percent funding level, considered the benchmark for a healthy pension fund.
Webb said the state's November revised revenue estimate was short $21 million in January, but that the state could make it up with a strong month. In fiscal 2016, the state missed its revenue estimate by $30 million and $65 million so far in the current fiscal year, 2017. The shortfall forced Gov. Phil Bryant to impose 1.5 percent budget cuts for state agencies for fiscal 2017 and take $35 million from the Rainy Day Fund.
"I will look at it at the end of February, but I think we can make our (revised) estimate," Webb said.
Related: $274 million incentive package took 5 hours from soup to nuts
According to Webb, Mississippi is one of 13 states where job numbers have not improved since the Great Recession of 2008. The state remains 27,000 jobs short of the levels recorded in December 2007, although Mississippi added 10,075 jobs in 2015, the majority in the leisure and hospitality industries.
Of the state's 82 counties, 33 reported job losses, 33 gained 150 jobs or fewer and 16 gained more than 150 jobs. The state's unemployment rate is at 6.5 percent, which is 0.5 percentage points higher than the Southeast region and 1.4 percentage points higher than the national rate. Mississippi's labor force participation rate, which measures how much of the population is employed, is 56.3 percent, second lowest in the Southeast and 6.2 percentage points lower than the national number.
Related: Governor proposes gas tax increase coupled with working class tax cut
Mississippi is second in the nation in the dependence-on-government index, which measures income from transfer payments and government earnings. Nearly a 40 percent share of personal income in the state comes from government.