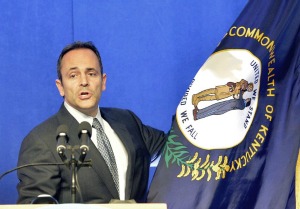 Despite Cuts, More Pension Woes
By TIMOTHY W. MARTIN | Updated Jan. 26, 2016 8:23 p.m. ET | www.wsj.com
Photo credit: TIMOTHY D. EASLEY/ASSOCIATED PRESS
Kentucky Gov. Matt Bevin prepares another state pension overhaul
Kentucky's new governor is preparing a fresh overhaul of the state's pension plans, a sign of greater pain coming in states that already implemented rounds of cutbacks after the financial crisis.
Three years after trimming benefits to head off a looming funding gap, the Bluegrass State has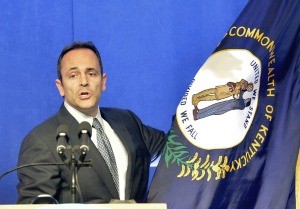 less than half of the money it needs to fund future obligations for about 345,000 public employees and retirees. One of its plans has just 17.7%, making it the worst-funded U.S. pension of the past 15 years. Standard & Poor's Ratings Services cut the state's bond rating to the nation's third-lowest in September, citing mounting retirement liabilities.
Kentucky represents a painful reality across the U.S. as public retirement plans try to close a $1 trillion funding gap made worse by the recent downswing in the markets. States that pushed through benefit cuts after 2008 financial crisis are planning a second wave of reductions for public employees after the initial moves failed to alleviate funding woes.
In Pennsylvania, state officials are considering an increase in worker contributions and placing some employees into a 401(k)-style plan, just several years after cuts to cost-of-living-adjustment increases to retirees and higher retirement ages didn't soothe matters. In Oregon, a key component of its 2013 pension overhaul was struck down by state courts, meaning lawmakers must again find another path to saving billions.
Kentucky Republican Matt Bevin won the race for governor in November after signaling he wanted to reshape the state pension systems again. During a Tuesday budget speech in Frankfort, Ky., he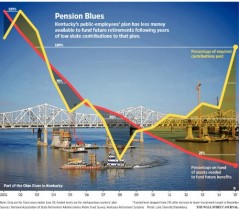 proposed a special fund to pay down pension debt.
The governor in a separate interview said he wants to complete an audit of the state's pension plans by summer and then propose deeper pension cuts by early 2017. He said he believes new hires should be placed onto 401(k)-style accounts instead of defined-benefit pension plans that offer guaranteed payouts.
"We have to deal with reality," Mr. Bevin said. "Everything is on the table, absolutely."
Pensions across the U.S. ran into problems because benefits were sweetened in fat times, investments soured or lawmakers skirted requisite payments. Kentucky suffered from all three.
Some of the state's current woes can be traced to 1996, when lawmakers buoyed by years of double-digit returns agreed to give retirees an annual cost-of-living increase. Two years later, some state workers were offered a 10% boost to benefits if they retired early, lowering the annual payroll but inflating long-term costs.
To continue: http://www.wsj.com/articles/kentuckys-governor-matt-bevin-prepares-another-pension-overhaul-1453842769#livefyre-comment