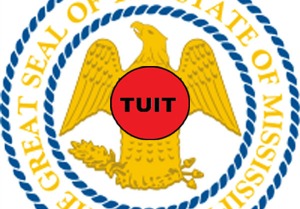 $1.5 billion: Unfunded liabilities a problem for Mississippi pension system
By Steve Wilson  /   December 18, 2015  / www.mississippiwatchdog.org
The Public Employees' Retirement System of Mississippi added $1.5 billion to its unfunded liabilities and more than 5,500 new retirees in 2015.
Mississippi's defined-benefit pension system — which serves most state, county and municipal employees — has $16 billion in unfunded liabilities and is far below an 80 percent funding level, considered the benchmark for a healthy pension fund.
The plan's return on its investments decreased to 3.4 percent, and the funding level — the share of future obligations covered by current assets — decreased from 61 percent to 60.4 percent, according to its annual financial report released Wednesday.
This year, the PERS governing board voted to cut its expected rate of return from 8 percent to 7.75 percent, but it still believes the pension will become 80 percent funded by 2042.
Eileen Norcross, director of State and Local Policy Project for the Mercatus Center at George Mason University, said pension funds counting on an overly optimistic rate of return are problematic. Last year, the plan's rate of return on investments was 18.6 percent. But during the economic downturn in 2008-09, pension investments lost 8.2 percent.
"The (pension) liability should be valued like a bond," Norcross said. "If bond rates are so low (around 3 percent for U.S. Treasury 30-year bonds), if you calculate the pension liability with a bond yield, the true size of that pension liability is twice as large. The reporting they're doing gives them the kind of illusion of being better funded than they actually are."
The rate of return for the Mississippi pension system has fluctuated over the years, with an average of 7.8 percent. Here are the numbers from the past decade:
2005 –  9.8
2006 – 10.7
2007 – 18.9
2008 – minus 8.2
2009 – minus 19.4
2010 – 14.1
2011 – 25
2012 – 0.6
2013 – 13.4
2014 – 18.6
2015 – 3.4
Demographics pose a problem for Mississippi's pension system, too. The number of retirees increased from 93,504 to 99,096, and that will probably continue to rise. Only 37.8 percent of active employees who are part of PERS are younger than 40, with the balance (62.2 percent) being 40 or older. Employees in the plan before 2007 can retire with 25 years' service, at age 60; those who entered it after 2007 need 30 years at 60 to qualify for benefits.
But lawmakers have little appetite for serious reform.
Two legislators who proposed reforms — state Sen. Nancy Collins, R-Tupelo, and state Rep. Brad Mayo, R-Oxford, — were beaten, and their proposals played a role in their defeats. Collins lost in the primary and Mayo lost in the general election, the only Republican incumbent to fall in the House. Collins proposed a bill that would've ended cost-of-living adjustments in lean years for PERS in 2012; Mayo proposed allowing younger workers to opt out of the pension system in 2013. Neither bill made it out of committee.
Bob Williams is president of State Budget Solutions, a nonpartisan group that advocates wise fiscal policy for state and local governments. He switching to a defined contribution — such as a 401(k) —plan, which is portable.
"I used to be an old CPA and a government auditor (for the federal General Accounting Office) and too often I'd talk in facts," Williams said. "Facts count, but stories sell. Pension reform is an issue that states have to address. They can't keep kicking the can down the street."