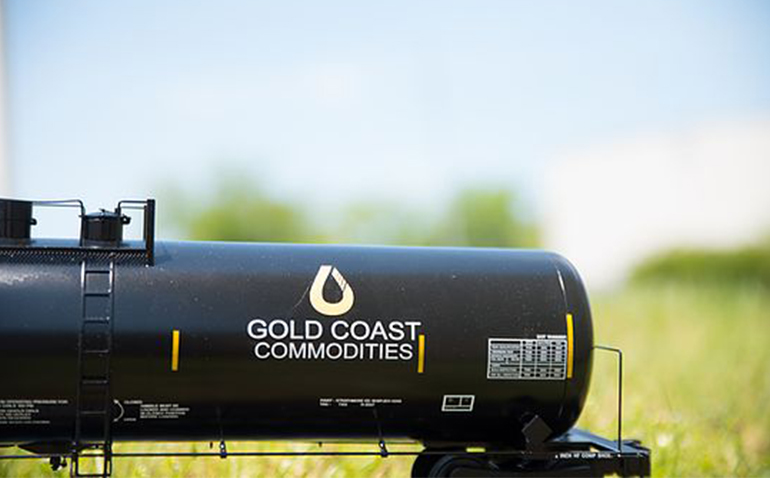 Gold Coast Commodities – Part 2
A wastewater sample that originated from a Brandon-based chemical plant and dumped into the city of Jackson's sewer system exploded in the Mississippi Department of Environmental Quality's laboratory in Pearl in 2017, according to a DEQ inspection report.
The sample taken by a DEQ inspector in October 2017 came from Gold Coast Commodities, a firm that transforms used cooking oil and soapstock — which is a byproduct resulting from the refining of soybean and other oils — into animal feed and biodiesel using sulfuric acid.  The malodorous wastewater generated by this process is highly corrosive since it is mixed with a caustic material (usually sodium hydroxide).  It is also kept hot since it will otherwise cool and congeal into a sewer-clogging sludge.
Rebel High Velocity Services pumped daily deliveries of Gold Coast's wastewater into Jackson's sewer system from December 2016 to October 2017, when the MDEQ issued an order that commanded the company to stop dumping the same corrosive wastewater into Jackson's sewer system in violation of city ordinances.
According to the 2018 lawsuit filed by the city of Brandon, Gold Coast contracted with Rebel High Velocity Sewer Services (which is part of Walker Environmental Services), which trucked the wastewater daily to Jackson and dumped it into the city's sewer at Rebel's facility near Interstate 20 in south Jackson.
Partridge-Sibley Industrial Services was contracted by Gold Coast to truck the wastewater to Rebel's facility.
On October 24, 2017, an inspector from the DEQ made an unannounced inspection at Rebel's facility at 333 Wilmington Street.  Andrew Walker, owner of Rebel and Walker Environmental Services, told the inspector that a letter sent to him by the DEQ's permits division regarding his wastewater from the vacuum system allowed him to dump the waste into Jackson's sewer system.
Rebel processes waste grease from restaurants with a system known as a diatomaceous earth rotary vacuum that removes the particles from the grease using a vacuum and a filter.  The screened particulates are then trucked to a landfill while the wastewater is dumped into the city's sewer system.
The wastewater from Gold Coast, which was dumped directly into Jackson's sewer system without any other processing, wasn't fed through any system.  Walker told the inspector that the wastewater was aerated when it was pumped from the trucks into holding tanks and later into the Jackson sewer system.
Walker also said that Gold Coast could no longer dump its wastewater into Brandon's system, which he said the company had been doing for years, due to the strong odor.
The letter from the DEQ authorized him to dump up to 25,000 gallons per day of filtered wastewater into Jackson's sewer system, a figure easily exceeded by the six loads daily (6,300 gallons per load or 37,800 gallons per day) from Gold Coast.
In his report, the inspector said he detected a strong odor (the same the inspector observed at Gold Coast on an inspection visit the year before) and steam rose from the sewer when the manhole was removed.  He later observed a thick, greasy material on the surface of the water in the sewer and used a temperature probe to record a reading of 132 degrees and a pH level of 6.51, which indicates an acidic sample.
According to Jackson city ordinances, the monthly average temperature of wastewater can't exceed 115 degrees or a maximum reading of 125 degrees, can't contain corrosive material or obstruct sewer systems with either solid debris or by congealing into a sludge.
On October 25, the MDEQ lab director told the inspector that one of the samples exploded in the lab during a digestion process of testing for metals because the fluid had reached its boiling point.
The DEQ sent cease and desist letters to Partridge-Sibley Industrial Services, Rebel High Velocity Sewer Services and Gold Coast on October 30 that demanded them to stop dumping their wastewater into Jackson's sewer system.
Rebel owner Andrew Walker was charged by the federal government on August 20 of violating the Clean Water Act by discharging prohibited substances into Jackson's sewer system.  He pleaded not guilty in his appearance before federal Magistrate Judge Linda Anderson on September 16.
The Mississippi Commission on Environmental Quality will hold an evidentiary hearing concerning Gold Coast and its wastewater, which was being disposed of in Pelahatchie, on November 19.
The order from the DEQ for Rebel says that the corrosive wastewater produced by Gold Coast and dumped into the Jackson sewer system by Rebel could cause problems for the embattled Savanna Street wastewater treatment plant, which has been under a federal consent decree since 2012.
The city has received a $30 million bond from the state revolving loan fund, with $27 million earmarked for repairs at the wastewater treatment facility in south Jackson.
To sign up for updates from BPF, subscribe here.