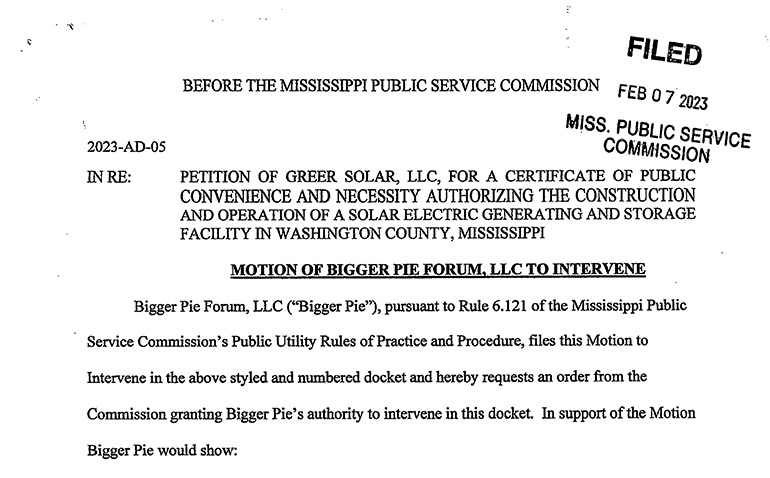 BPF Motion To Intervene in Greer Solar, LLC
BEFORE THE MISSISSIPPIPUBLIC SERVICE COMMISSION
IN RE: PETITION OF GREER SOLAR, LLC, FOR A CERTIFICATE OF PUBLIC CONVENIENCE AND NECESSITY AUTHORIZING THE CONSTRUCTION AND OPERATION OF A SOLAR ELECTRIC GENERATING AND STORAGE FACILITY IN WASHINGTON COUNTY, MISSISSIPPI
2023-AD-05
Bigger Pie Forum, LLC ("Bigger Pie"), pursuant to Rule 6.121 of the Mississippi Public
Service Commission's Public Utility Rules of Practice and Procedure, files this Motion to Intervene in the above styled and numbered docket and hereby requests an order from the Commission granting Bigger Pie's authorityto intervene in this docket. In support of the Motion Bigger Pie would show:
Bigger Pie, a Mississippi LLC, is headquartered at 750 Woodlands Parkway, Suite 201, Ridgeland, Mississippi 39157. Bigger Pie's mission is to research and share informationthat fosters greater economic freedom, economic growthand individual responsibility in Mississippi. Bigger Pie focuses on Education, Energy, Environment, Health Care, Federal Government and Agencies, Mississippi State Government &Agencies, and Regulatory Abuses and Reforms. Bigger Pie reports on and publishes articles concerning Mississippi's education, economy and government agencies, including the Mississippi Public Service Commission at www.biggerpieforum.org
BPF believes the cost of electricity is a vital component in the ability of many business owners to experience greater economic freedom by starting and/or growing their enterprises. For that reason, Bigger Pie has been actively engaged since 2010 in studying, commenting on, and educating the public about issues pertinent to the efficient, cost-effective and reliable generation in Mississippi of electricity.
Bigger Pie and its readers have a substantial interest in the outcome of this proceeding, and in the provision of suggestions relating to Greer Solar, LLC, and therefore request permission to intervene in this Docket. Bigger Pie's request is filed timely pursuant to the Procedural Rules.