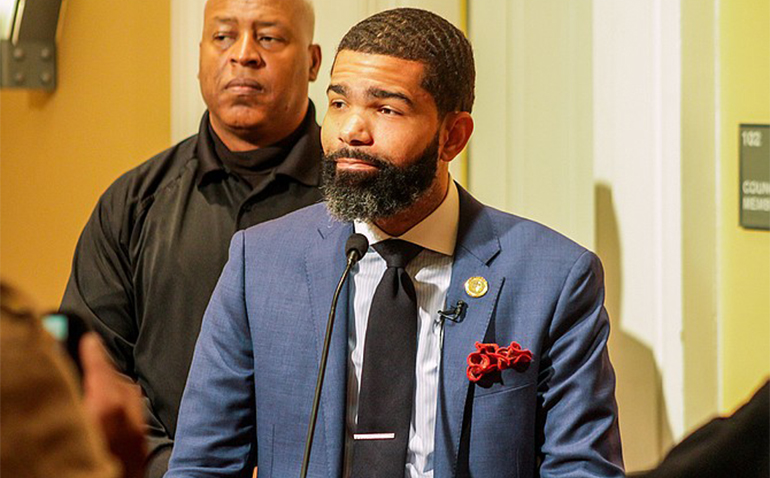 City of Jackson Proposes Public Safety Spending Cut of $9 Million for 2021
The share of the city of Jackson's general fund spent on public safety has averaged about 42.65 percent since 2002.
Public safety spending includes the city's police and fire departments.
Put into context, the average nationwide is $394 per capita for cities with populations above 250,000. Jackson's spending is $492 per capita.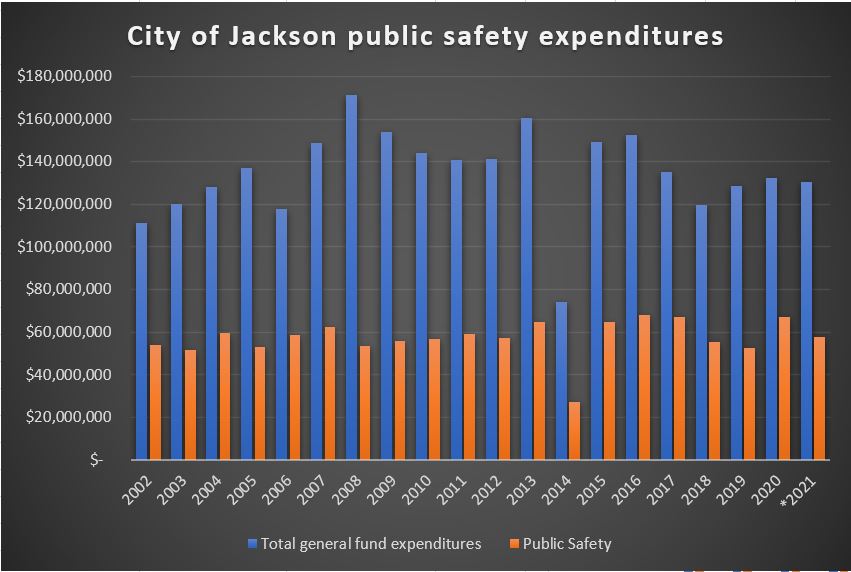 Considering Jackson's general fund revenues, which originate from sales and property taxes and other sources, public safety remains one of the biggest line items in the budget.
Since 2002, the biggest outlay was this past fiscal year, when 50.68 percent of the city's general fund revenues ($132 million) went to the police and fire departments.  The lowest figure was in 2008, when public safety declined to a 31.34 percent share of general fund receipts.
In an era when defund the police is being proposed by left-wing activists and acted upon by left-leaning city councils, can Jackson afford to do the same considering the city has some of the worst property and violent crime rates statewide?  Doing so would mean fewer patrols and fewer officers manning the beats.
The data says doing so would be foolhardy.  In 2008, the same year when public safety spending was only 31.34 percent of general fund expenditures, violent crimes increased from 1,512 to 1,652 which is a 9.52 percent increase.  After a five percent increase in public safety spending in 2009 was passed by the city council, violent crime incidents were reduced to 1,515, an 8.29 percent decrease.
Jackson has lost nearly 18 percent of its population and one of those contributing factors is both the perception and the reality of crime in the capitol city.  From 1985 to 2014, the violent crime rate (murder, manslaughter, assault and rape) has increased 38 percent according to data from the Federal Bureau of Investigation.
Property crimes are also up during that same time period, but only by 6.2 percent.
Cutting fire department funds would also hurt homeowners in the city, who'd have to bear the burden of increased insurance cost since the city's fire rating would likely go down.
Increasing public safety spending would likely help protect Jacksonians by reducing the incidence of crime and help them with lower insurance rates.  Even if no increase can be passed, reducing the percentage spent on this vital city service would only increase the exodus of residents to neighboring communities, leaving a hollowed out city with a declining tax base and inadequate government services.
The proposed budget for the city for 2021 would reduce public safety spending by $9 million as compared to fiscal 2020.  Doing so would be dangerous for Jacksonians.
To sign up for updates from BPF, subscribe here.