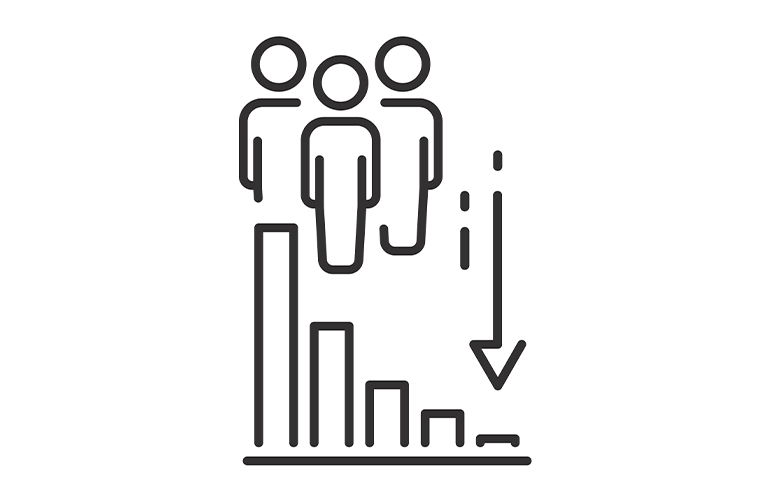 Census Bureau's State Count Estimate Shows Mississippi Has Population Loss
The first step in solving a problem is admitting there is one.
Population loss is a problem in Mississippi and recent population estimates from the U.S. Census Bureau confirm the necessity that policymakers take notice.
The official state count was 2.963 million people or a loss of 3,383 residents in the last decade.  That marks the first time in six decades that the state has lost population.  Low population growth is a bad sign and population loss is even worse.
After releasing the initial state counts for apportionment purposes for U.S. House seats, the Census Bureau will release more detailed demographic data that will really give policymakers a clearer view.
The population estimate that the Census Bureau conducts each year showed that while the three coastal counties, along with some suburban counties (DeSoto and Madison and Rankin) were big winners in growth, Hinds County and the Delta region lost significant residents from 2010 to 2020.
Hinds County lost 17,319 residents according to the estimates compared with the 2010 census.  That represents a loss of 7.6 percent of the population.  The impoverished Delta region predictably lost a bushel-full of residents, as five counties — Bolivar, Coahoma, Leflore, Sunflower and Washington — lost a combined 26,000 residents.
There are 82 counties in the state and only 13 of them showed growth of 1,000 new residents or more.  Conversely, 65 counties lost population in the last decade, a sobering statistic.
DeSoto County in north Mississippi has been and will likely continue to be the fastest growing county in the state, with 27,023 new residents (14.35 percent gain from 2010).  The crime rate in Memphis, Tennessee could be one factor in residents taking flight to DeSoto County, but additional reasons for population growth are at play here.
The three coastal counties combined to gain 29,901 in new population in the last decade, with most of that in Harrison County with a 21,696 gain.
Lafayette County (Oxford) had a population increase of 12.97 percent or 7,057 residents, while Lamar County (including part of Hattiesburg) gained 8,507 new residents for an increase of 13.26 percent.  Both counties benefit from nearby universities.
The need to focus on ways to grow the economy that doesn't involve government interference in the marketplace is essential.  Luring companies with overly generous privileges and benefits hasn't made the dent in economic growth that was predicted by their backers.
Pruning regulation would be a good start for policymakers, as would reforming the tax code.  Eliminating the state's income tax would give Mississippi a competitive advantage now enjoyed by Florida, Tennessee and Texas, all regional powerhouses of growth.
State government would do well to take a step back and visit the counties that have demonstrated population growth over the past 10 years and see what lessons there are to learn.
Sign up for BPF's latest news here.