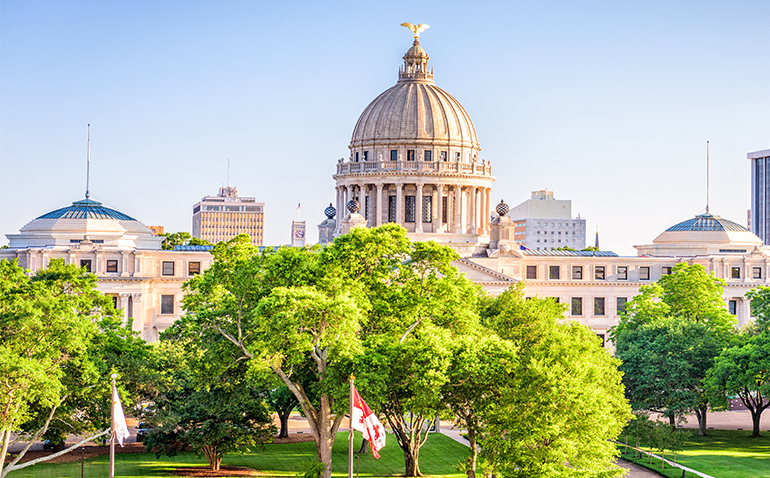 Review of 2018 Mississippi Legislative Regular Session
The 2018 Mississippi legislative session was marked more by what did not get accomplished than what did.
Major pieces of legislation were either defeated outright or denied a vote because of expected defeat. This included changes to the school funding formula, a substantial and permanent increase in funding for roads and bridges, and expansion of school choice programs. None of those occurred. Neither did the creation of a state lottery, which some had hoped for.
The Good
A few bills passed that will help the state's economy to a small degree now, but their impact could grow over time.
House Bill 415 will allow the four distilleries in the state to sell their products at their facilities, which is expected to attract tourists and provide additional entertainment options for residents. Currently, their products may only be sold to the state government's alcohol warehouse, which then sells it at wholesale to liquor stores. House Bill 387 is seen as a criminal justice reform bill, but its purpose is to enhance opportunities for former criminals to get and keep a job, which not only helps the economy but has been shown to reduce the likelihood of their committing further crimes and/or being sent back to prison. Senate Bill 2526 requires occupational licensing boards to review their rules and regulations every three years to determine if they are still needed.
The Bad
For all the talk about not raising taxes, there were eight bills to create new taxes on restaurants and/or hotels in certain cities, subject to a referendum in those cities. Another ten bills extended existing such taxes that otherwise would have expired. Some of these had been approved by their voters for a limited time or purpose, but the legislature has now extended that time or purpose without voter consent. Most of these bills allow for a reverse referendum, where residents would have to collect 1,500 signatures to force a referendum, but that is not likely to occur.
The Ugly
The worst bill of the session has a title that sounds friendly to small businesses. But under this "Mississippi Small Business Investment Company Act" (House Bill 1557), only a privileged few will get a share of $45 million in taxpayer subsidies to fund their enterprises. That's in addition to the $50 million already invested in only nine companies under this same program, where insurance companies (the only eligible investors) receive a 100% tax credit for their investments.
This is an inappropriate use of taxpayers' money. It is not a proper role of government to fund venture capital investments, especially those that are risk-free to the investors, which is effectively what a 100% tax credit accomplishes. If start-up or expanding businesses are worthwhile investments, they could and should obtain investment capital from private investors – not from taxpayers.
The summary statement for the 2018 legislative session: not many good things, not many bad things. Sometimes, that's the best we taxpayers can hope for. But it's not what we should expect.