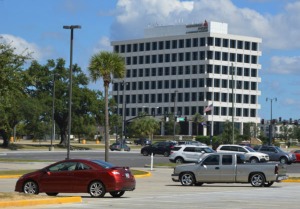 Mississippi Power play: Utility isn't reluctant to flex political muscle in Legislature
By Steve Wilson  /   July 14, 2016
When Mississippi Power needs something from the Legislature, it isn't bashful about spending the lobbying dollars needed to get it done.
Since 2008, the utility has spent more than $3.5 million to lobby the Legislature, according to a survey by
Mississippi Watchdog of lobbying records from the Secretary of State's office. That's the kind of committment that can be made again if financial problems continue with the Kemper Project clean coal power plant, now two years behind schedule and billions over budget.
The investment has paid off, which has claimed wins on a pair of major legislative initiatives.
The investor-owned utility, a subsidiary of the Southern Company, spent more than $444,000 to lobby the Legislature in 2013 for passage of a bill that allowed the company to issue a 20-year bond up to $1 billion payable by its ratepayers. Gov. Phil Bryant later signed House Bill 1134 into law.
The bond approved in 2013, known as a special purpose entity, was designed to provide up to $1 billion to offset increasing costs on the Kemper Project. The 582-megawatt plant is designed to convert the second-lowest grade of coal, lignite, into a natural gas-like substance called synthesis gas to fuel its electricity-generating turbines while removing 65 percent of the carbon dioxide with its carbon capture system. At that time the cost of the plant, estimated at $1.8 billion when the project was announced in 2006, was up to $3.8 billion.
The utility announced earlier this month in an SEC filing that the plant will cost an additional $9.8 million in its May report, bringing the new estimated total to $6.751 billion.
In 2008, Mississippi Power spent more than $502,000 to lobby for passage of theBase Load Act, which allowed utilities to charge customers before a new power plant was finished. In comparison, the state's other investor-owned utility, Entergy, spent more than $129,000 on lobbyists that year. Then-Gov. Haley Barbour later signedSenate Bill 2793 into law.
This set the stage for Mississippi Power to get an 18 percent rate increase — 15 percent in 2013 and 3 percent in 2014 — approved by the Public Service Commission before the plant came online. The increase was later overturned by a Mississippi Supreme Court order in a lawsuit brought by Hattiesburg businessman Thomas Blanton.
The PSC later approved an 18 percent temporary "emergency" increase last August that was reduced to a 15 percent permanent rate hike in the final act of the former commission in December, before two newly elected members took office in January. That increase was to cover the parts of the plant already in service and generating power on natural gas.
Mississippi Power outspent nearly every one of the state's big companies in 2008 and 2013 on lobbyists.
California-based Chevron — which has one of its largest refineries in Pascagoula — spent more than $72,000 on lobbying in 2008 and $92,000 in 2013.
Mississippi-based Sanderson Farms — the state's largest chicken producer —spent $120,000 in 2013 for lobbyists after not spending anything in 2008.
Huntington Ingalls Shipbuilding — which has the U.S. Navy as its biggest customer — spent more than $211,000 on lobbyists in 2008 and more than $160,000 in 2013.
Nissan spent $61,000 for lobbying in 2013 and $81,200 in 2008. The Japanese auto giant has a plant in Canton that manufactures several trucks and SUVs, with a capability of 450,000 vehicles annually.
Mississippi Power spent more than $386,000 for lobbyists last year, and more than$333,000 in 2014.
The state's largest non-profit electric cooperative, the South Mississippi Electric Power Association, spent more than $101,000 for lobbyists last year and $28,000 in 2014. Entergy spent more than $175,000 to lobby the Legislature last year and more than$178,000 in 2014.