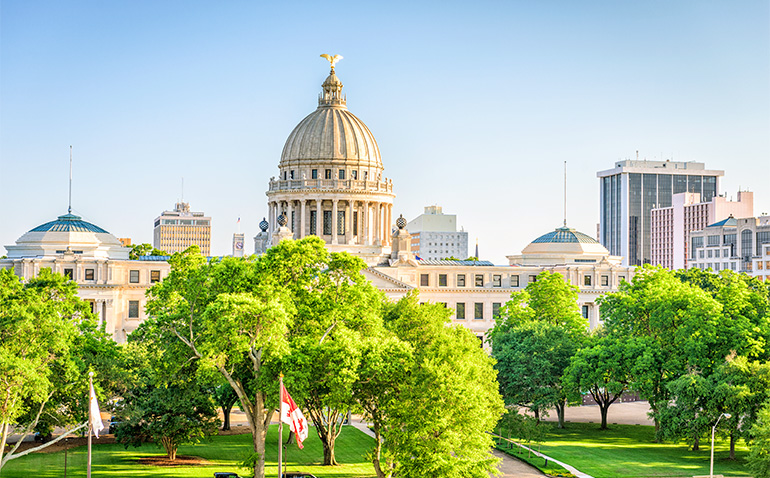 Mississippi Legislative Session 2019
The 2019 session for the Mississippi Legislature starts up this week.  Despite an upcoming election season that promises to curb any major overhauls, there can still be room for pro-economic freedom reforms that will move the state forward.
One of the issues that will definitely be considered is allowing rural electric cooperatives to become high-speed broadband providers.  If the solution is market-based, doesn't charge electrical ratepayers on their bills for infrastructure solely for broadband and guarantees that the co-ops won't ask for subsidies from taxpayers, there's no reason why a bill can't be passed.
The issue of tax increases will also come up during the session, which usually ends in April.  A proposed tax hike on packs of cigarettes — designed to help fund the state's $6.349 billion total Medicaid budget — will result in short-term tax revenue growth and long-term reductions in revenue as smokers either stop lighting up or cross state lines, according to data from the non-partisan Tax Foundation.
Increasing the tax to $1.50 per pack from the present rate of 68 cents will ensure that smokers will cross state lines as that would make Mississippi's tax the highest among its neighboring states.
Despite $250 million being borrowed on the taxpayer credit card in the infrastructure package passed in the fall special session of the Legislature, officials at the Mississippi Department of Transportation are seeking a gasoline tax hike.  Mississippi Central District Transportation Commissioner Dick Hall says a tax increase is needed to fund nearly $1 billion in outstanding projects.
With average fuel economy of vehicles nationwide on the increase and the converse decrease in gasoline tax revenue, a long-term solution needs to be found to fund vital infrastructure projects while ensuring that taxpayers aren't footing the bill for needless spending.
One likely reform avenue concerns campus free speech.  The state's universities and community colleges need restrictions on their ability to clamp down on First Amendment-protected freedom of expression.  Too many campuses nationwide are implementing speech codes that curtail protected speech under the reasoning of emotional and physical distress.  Protecting the free speech rights of every student on taxpayer-funded institutions of higher learning needs to be a priority of the Legislature.