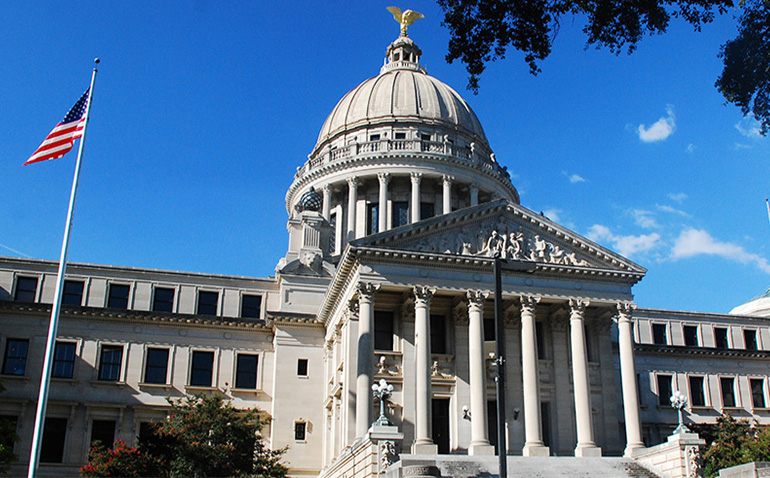 BPF Legislative Halftime Report
The Mississippi Legislature is halfway through its 90-day session. Here are some bills that are still alive. These bills have passed the House (if they start with HB) or the Senate (if they start with SB). They now go to the other house for consideration.
Should Pass
No candidates in taxpayer ads – SB 2482 would prohibit candidates for public office from appearing, or otherwise allowing their "name, voice, or likeness" to be used, in ads paid for by taxpayers during an election year.
Local government transparency – Several bills seek to require local governments (and school districts, where applicable) to post more information on their websites, including campaign finance reports, budgets, meeting notices, and minutes of their meetings.
Allowing emerging industry to survive – Alcohol has been on the brain of legislators this year, and that doesn't refer to the many receptions they attend. More than a dozen alcohol-related bills have passed so far. Three bills benefit the four distilleries in the state, reducing barriers to one of the few emerging industries in Mississippi. HB 995 and SB 2601 would allow distilleries to sell what they make on their own premises, just as craft breweries are allowed to do already. HB 171 would reduce the privilege license tax for distilleries from $4,500 to $1,800.
Agency review of regulations – HB 1175 and SB 2526 would require certain occupational licensing boards to review their rules every three years to determine whether any rule should be repealed, amended or a new rule adopted. HB 1418 would require all rules to expire every five years unless the agency readopts them. It would also require the auditing arm of the legislature, known as the PEER Committee, to review 3-to-5 agencies each year to evaluate their efficiency and effectiveness as defined extensively in the bill.
Should Not Pass
Mandated insurance coverage for IVF – Adding to the many mandates that have been passed over the past few years to increase coverage (and cost) to health insurance policies, HB 1198 mandates coverage of up to $20,000 in expenses for infertility treatment, including in-vitro fertilization, artificial insemination, and others. The $20,000 is a lifetime cap, and it would apply only to "married females and males." This would not apply to the state employees health plan nor to self-insured employers. Unlike most mandates, this does not provide an exception for small businesses, which are normally required only to "offer" the coverage to their employees and may have the employees share in the cost. This bill also has no provision allowing an employer to opt out if they have a conscientious objection to IVF.
Barriers to starting a business – Continuing the practice of the past few years of erecting or heightening the barriers to starting a business through protectionist licensing requirements, HB 1476 and SB 2041 would make it more difficult to become a real estate broker. SB 2572 would do the same for residential builders and remodelers.
Consumer protection – HB 1238, which passed by a very narrow margin, would prohibit the Attorney General from suing a company under the state consumer protection law for any action by that company that is legal under state or federal law or under regulations interpreting those laws. While the intent is to limit the rogue actions of the Attorney General in suing companies and providing enormous attorney fees for his friends, this bill goes too far.
Another taxpayer-financed museum – HB 1554 was described on the House floor as "the museum bill for this year," because there have been so many museums, entertainment centers, aquariums, and similar projects to which state taxpayers have contributed more than $100 million dollars over the past few years. This bill would issue bonds (borrow money) to help finance a Mississippi Children's Museum in Meridian. At the very least, this bill should call for a thorough publicly-available evaluation of all the existing museums in the state that taxpayers have helped finance.
$50 million to insurance companies – HB 1557 would double the amount of insurance tax credits from $50 million to $100 million for insurance companies' contributions to "small business investment companies," which are venture capital funds that invest in small businesses. This amounts to taxpayer financing of venture capital activity.
"Free" tuition at community colleges – HB 405 would provide "last dollar" scholarships to students who enroll in career and technical education certificate and associate of applied science programs "identified through sector analysis to meet the workforce demands of the state." These scholarships would be available only after the student has obtained all other financial aid available to them.
Bribing college grads to stay – HB 1550 would attempt to address the brain drain by having recent college graduates pay no state income tax for three years for wages earned in Mississippi. This could be extended an additional two years if the graduate buys property or starts a business that employs at least one person other than the graduate.
Increasing the number of revenuers carrying a badge – HB 1492 would allow the Department of Revenue to designate an unlimited number of its employees as law enforcement officers, allowing them to carry a badge and a gun and give them, as the bill says, "police powers to enforce any laws administered" by DOR.