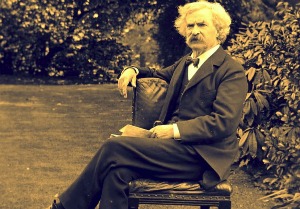 Kelley Williams, Chair Bigger Pie Forum, May 15, 2015.
Easy nobility. "It's noble to be good, and it's nobler to teach others to be good and less trouble." Mark Twain's words might be rephrased as:  "It's better and easier to do good in someone else's neighborhood."  And this might describe Oxford House, Inc. and the Mississippi Department of Mental Health's efforts that have put 16 half way houses for recovering addicts and ex-cons in good neighborhoods in Jackson, Biloxi, Gulfport, Hattiesburg and Meridian.  The stated noble motive is to help recovering drug addicts and alcoholics.   But it seems to have morphed into a prisoner outplacement business for Oxford House investors and a check-the-box compliance exercise for MDMH bureaucrats.  How did it happen?
Compliance failures.  It began with the1999 US Supreme Court Olmstead decision about the American with Disabilities Act that congress passed in 1988.   The decision said that two mental patients in Georgia who could benefit from community living should not be institutionalized.  Fifteen years later there is a large national community living industry and a large bureaucracy to oversee it.  President Obama proclaimed 2009 the "Year of Community Living" to see that persons with disabilities receive services in the most integrated setting appropriate to their needs.  In 2011 the US Department of Justice sent a 37 page letter to the governor citing Mississippi's failures to comply with ADA and Olmstead.  In 2012 the first Oxford House in Mississippi started up.   In 2014 Mississippi's Attorney General and the DOJ entered into a Memo of Understanding to address the state's compliance failures.
Expert advice.  Among other things the MOU required the state to get technical assistance from national experts.  So the legislature appropriated funds for MDMH to engage Technical Assistance Collaborative, Boston, MA.   TAC is a community living compliance expert.   It recommended that Mississippi Home Corporation be the goto agency for community living housing.  The legislature also appropriated $1.2 million for initial compliance efforts.  It did not appropriate any funds for Oxford House.  MHC provides financial assistance for low income housing for which it sets building standards for safety and health.   It will presumably impose similar standards on community living housing.
Oxford House not recommended.  The TAC report did not recommend Oxford House.  It did note it is a residential option facilitated by MDMH.    It also noted that it does not have on-site staff and that residents are self-monitored (i.e., not supervised).  Oxford House, Inc., Baltimore,MD, nonprofit describes itself as an evidence based provider of community living facilities for recovering drug addicts and alcoholics.  The "evidence based" tag appears to qualify it for federal grants.  In general this seems to mean that some quantifiable metrics showed the program (whatever it is) worked in some study.   Oxford House's program is self-help sober living in private residences in good neighborhoods.   A study in which Oxford House participated reportedly showed it reduced relapses (recidivism).  Thus, it worked in the study.   However, there are no metrics showing it works in real life in Mississippi.
In fact, there are very few metrics of any kind on the Oxford Houses in Mississippi.   The customary building standards for safety and health that apply to MHC financed facilities do not apply to Oxford Houses.   There are no requirements for trained professionals to admit, monitor, and measure recovery or recidivism for Oxford House residents.   There doesn't seem to be any evidence to justify the Oxford Houses in good neighborhoods.   And there don't seem to be enough recovering addicts and alcoholics who will voluntarily live there to fill the houses and  attract more investors.   Oxford Houses in Mississippi have a high vacancy rate and high turnover.
Recruiting released prisoners.  Mississippi Oxford Houses are recruiting newly released prisoners to deal with the turnover and vacancy issues.     Ex-prisoners are not exempt from residential zoning unless they have some dependency.   So they are not as attractive for investors as addicts and alcoholics.    But they may be close enough for government work.  Oxford House, Inc. reports 76% of its residents nationwide are ex-cons.  Why go for more here?  Maybe they are easier to recruit and keep.  Especially, if Mississippi prisons and drug programs "sentence" newly released inmates to Oxford Houses and encourage them to stay put to make it easy to check on them.
Oxford Houses are famously run by the inmates.  They self-report on their activities.  Their reports are brief and superficial.   One frequently reported activity is prison outreach:  "We are working hard to get into local jails."  "Harrison County Jail is referring several inmates to our houses."  "We want to get into the prisons in central and northern MS."  Prison referrals are high priority.  That's not good news for good neighborhoods with Oxford Houses.
Easy money.  So why did MDMH contract with Oxford House, Inc. following the DOJ's letter?    And why has it added houses despite no evidenced based positive results and threats to neighborhood safety and property values?   And why does it ignore greater threats from expanded ex prisoner populations?  The TAC report has a clue.  It noted that the "only" MDMH funding needed for OH was for outreach workers suggesting that Oxford Houses are a bargain for MDMH.  So did MDMH sell neighborhood property birthrights and safety for a mess of federal pottage?
Some say it's selfish for those in good neighborhoods to object to ex cons and recovering addicts as neighbors.  But they may not know that rent from six inmates jammed into an Oxford House generates 100%+  annual returns for its investors while depressing neighborhood property values.   Or that crowded Oxford Houses may not meet customary safety standards.  Or that MHC could offer safe and better alternatives.
Or they may be like Mark Twain's preacher in Huckleberry Finn: "…he was a preacher too … and never charged nothing for his preaching, and it was worth it, too."