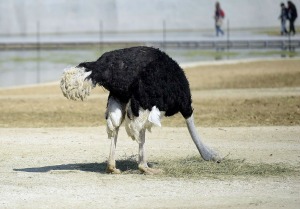 A frugal ostrich named Gilbert
By Kelley Williams, Chair, Bigger Pie Forum | February 29, 2016
The Clarion Ledger has been bringing it with a series of in depth articles about campaign finance abuses. As usual a Marshall Ramsey cartoon nails it. It pictures four state government pigs feeding on a big fat sow labeled campaign funds for personal use.  A dismayed tax payer points at the spectacle – which irritates one of the pigs whose challenging "what?" says it all.  "Everybody does it. We're entitled."
When I saw the cartoon, this image came to mind: a long lanky ostrich named Gilbert with its head in the sand and a satchel full of money labeled "$1.5 million for the legislature. I saved it."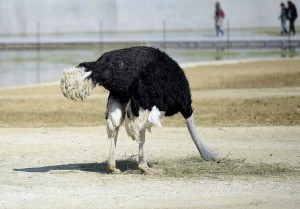 Secretary of State. The Secretary is responsible for campaign finance reporting. It's not working.  But he seems to ignore the problems. This is a mystery given his effective discharge of other responsibilities and his bold initiatives to fix 16th Section Lease and Voter ID abuses and to improve Lobbyists Reports.  He's efficient too and creative with fee revenues to offset expenses.  He just asked the legislature to cut his budget appropriation again next year. Yep, a budget cut!  Another one. Good for him. What's with the campaign finance indifference?  It's strange.
Reporting problems. What are the problems with campaign finance reporting? Candidates for state office are supposed to file campaign contribution and expense reports with the Secretary.  These are supposed to show who gave them money, when, and how much, when and what it was spent for, and how much money is in the campaign finance account. This information is supposed to be available for public examination.  It's supposed to be usable. It's not.
The intent is to make candidates responsible and accountable for the proper and legal use of campaign contributions and for voters to be able see who's giving and how the candidates are spending the money. Legally, candidates just have to report who receives expense money, not what it's for. So some candidates report paying credit card balances, but no itemized charges. Others just pay themselves. Technically, that meets the "who" requirement.
It's hard to argue such expense reporting is proper or the intent of the statue. Or that a determined Secretary couldn't require more. And get strong public support. Gilbert, the bold? Or Gilbert, the indifferent? The idea is that timely, accurate, public disclosures might discourage selling votes, and political favors.  And that the proper use of campaign contributions is to pay for campaign expenses, not to put politicians in the contributor's hip pocket.
The Secretary's job is to receive the fillings and post the information for public use. He does.  But the filings are frequently incomplete, late, inaccurate, and essentially unusable as posted.  The Secretary could require more detailed, accurate, and timely filings and post them in a searchable digital format. They could be informative.
Reports of failures to comply could also be informative. Why not highlight filing failures during elections?  For example in the last election, the Attorney General did not detail credit card expenses, and reporting periods were not consistent (contributions re-reported on multiple reports).  This made it confusing and difficult to follow the sources and uses of his $1.8 million in contributions including $1.4 million from out of state. In contrast, his opponent says he submitted detailed reports, but the Secretary's office wouldn't post them.
How to fix reporting problems. The Secretary was asked recently about the poor state of campaign finance reporting and why he didn't do something about it.  He had two answers.  One, the legislature likes things the way the are – it doesn't want change. Well, duh!  And two, it would cost $100-150,000 to digitize records. Not in his budget, and the legislature won't pay for it.  Err, what about the requested $1.5 million budget cut for 2017?  Why not take 10% of this and make reporting for candidates as effective and efficient as it is for lobbyists? (They file on line, and their digitized reports are searchable.)  It would be money well spent.
Loopholes. Timely and accurate campaign reporting could spotlight failures to comply with existing laws, loopholes in existing laws, and problems and abuses not subject to existing laws. Public awareness and pressure might lead to changes.  One obvious loophole is the absence of a legal requirement to have and report the purposes and details of campaign expenses. How can you have a legitimate purpose if you are not running for election? If you are not campaigning, how can you have a campaign expense?  Or receive a campaign contribution?
Then the obvious question is what happens to campaign contributions not spent on campaign expenses?  This is not a hypothetical question. Former Lt. Governor Amy Tuck retired with $158,000 in her campaign account, closed it out two years later, and wrote herself a check for that amount.  There are some healthy current campaign account balances:  Lt. Governor Reeves $3.6 million, Secretary Hosemann $1.2 million, Governor Bryant $1.0 million, Attorney General Hood $171,000.
An example report. Former Pubic Service Commissioner Lynn Posey reports $44,648 in his campaign account balance. He did not run for re-election in 2015. His last report signed January 30, 2015 omits dates for contributions and expenditures. It was stamped received January 29, 2015 but is filed for the January 8, 2106 reporting period. It shows $28,598 in disbursements including $18,850 to himself for "reimbursement of expenses."  His contributions were the subject of a motion to the PSC seeking his recusal in a Mississippi Power rate hearing.  The motion citied fund raisers and contributions from company contractors.  He was not recused and did not recuse himself.  He voted for a rate increase for the company as a last official act in December 2015.
That's how we roll.