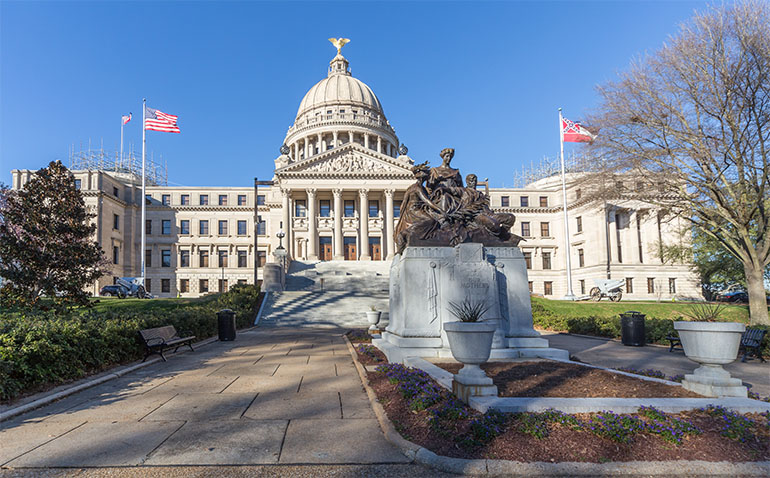 A BPF Legislative Update March 2018
By Forest Thigpen 
Though both the Mississippi House and Senate are controlled by Republicans, they each have a degree of disdain for the other. Now less than two weeks away from then end of their 90-day session, the testiness is increasing.
The House complains about the Senate killing House-passed bills unnecessarily, and the Senate returns the complaints. While "unnecessarily" is in the eye of the beholder, the fact is that more than half the bills passed by the House have died in the Senate, and almost half the bills passed by the Senate have died in the House.
In some cases, that's because there were two identical bills, so one was unnecessary. But many died due to policy differences and/or, some would say, personality differences. One chairman, for instance, saw ten bills he authored die in his counterpart committee in the other chamber without their merits even being discussed. That type of action tends to be taken personally.
Having bills die is not necessarily a bad thing; many need to die. There's one chairman who can't seem to say no to his fellow members, no matter how bad the idea is. Unfortunately, his colleagues go along with him, approving bills they know (or hope) will be killed in the other chamber.
The list below includes only a few of the bills Bigger Pie Forum has been following this session that you might not read about elsewhere. (HB = House Bill; SB = Senate Bill; Conference = for each bill, 3 House members and 3 Senators assigned to work out differences between the two houses on that bill)
Good Bills
Allowing an emerging industry to survive – Reducing barriers to one of the few emerging industries in Mississippi, HB 995 would allow the four distilleries in the state to sell what they make on their own premises, just as craft breweries are allowed to do already. This bill is now in a conference committee.
Agency review of regulations – Attempting to reduce regulatory burdens on businesses, SB 2526 would require certain boards and commissions to review their rules every three years to determine if any should be repealed or amended. The House version would repeal all agencies' rules every five years unless the agencies go through the formal process of readopting them, which would include opportunity for public comment. Both bills are in conference.
Allowing ex-cons to get and keep a job – SB2841 would, among other provisions, allow a non-violent criminal to obtain a driver's license after release from prison, allowing him or her to drive to a job. That bill is in conference. HB 387 would enhance opportunities for former prisoners to become productive citizens and thus reduce the likelihood of committing further crimes and/or being sent back to prison. One provision, for instance, allows them to check-in with parole or probation officers via FaceTime or Skype if they have a job, allowing them to stay at work instead of leaving for the meeting. That bill awaits the governor's signature.
Bad Bills
$50 million of taxpayers' money for venture capital investments by insurance companies – HB 1557 would provide $50 million in tax credits (a 100% reduction in tax payments to the state) for insurance companies' contributions to "small business investment companies," which are venture capital funds. This amounts to taxpayer financing of venture capital activity. This bill is in conference.
Interference in private contracts – Regardless of the merit of any of the following ideas on their own, the legislature's practice of interfering with private contracts is a dangerous one. It could easily cause businesses to question whether they want to do business in Mississippi. Some examples:
Good Thing These Didn't Become Law
Barriers to starting a business – Continuing the practice of the past few years of erecting or heightening the barriers to starting a business through protectionist licensing requirements, HB 1476 would have made it more difficult to become a real estate broker. It passed both houses, but Governor Bryant vetoed it, correctly noting the unnecessary barrier it created.
Likewise, SB 2572 would have created a new requirement for construction managers to be licensed and would have increased other barriers for residential builders and remodelers. This bill passed the Senate but was soundly defeated by the House by a vote of 20-94.
Bribing college grads to stay – HB 1550 attempted to address the "brain drain" by having recent college graduates pay no state income tax for three years for wages earned in Mississippi, or five years if the graduate bought property or started a business that employed at least one person other than the graduate. Our top graduates are looking for opportunities, not a tax break.
For more bills to watch, go to biggerpieforum.org.
Forest Thigpen is an independent policy consultant. This review was produced for Bigger Pie Forum.