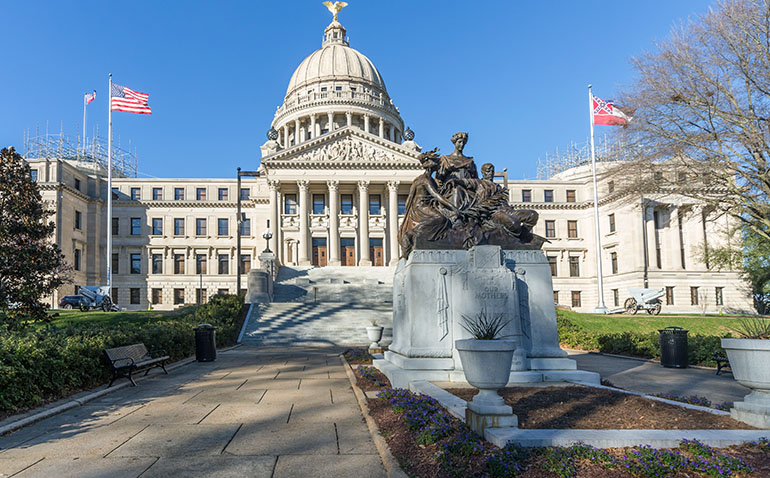 2019 MS Legislative Halftime Report
The 2019 Legislative Session, apparently by design, has been relatively uneventful compared to previous years, with few highly controversial bills being passed out of committee. Now more than halfway through the session, the House and Senate have passed the deadline for approving bills that originated in their own chambers. They are now considering bills approved by the other chamber. Except where noted, the following bills are still alive.
The good
Economic Freedom
Current law allows certain foods (bread, cakes, candy, spices, etc.), which are made in a residential kitchen with non-commercial-grade appliances, to be sold directly to consumers without being subject to Health Department inspection of the kitchen. House Bill 702 would address two current restrictions. It removes the current prohibition on cottage foods being advertised over the Internet, including social media, and it increases maximum annual gross sales allowed from $20,000 to $35,000.
Criminal Justice Reform
Senate Bill 2781 will prohibit occupational licensure boards from withholding a license due to a prior criminal conviction, unless the crime for which an applicant was convicted directly relates to the duties and responsibilities for the relevant occupation.
In addition, HB 1352 will limit the circumstances under which a person's driver's license may be suspended as punishment for crimes that have nothing to do with driving a vehicle. This bill would also make adjustments to and/or expand drug courts, mental health courts, and veterans courts to help streamline the court system and to provide specialized treatment to lessen the likelihood that a convicted person will repeat their criminal activity.
The bad
Subsidies for Hollywood Producers
SB 2603 propose to reinstate the previously-expired "rebate" (which in reality is a grant) to out-of-state producers of films, TV shows, video games, commercials, etc. for the expenses they incur while producing their product in Mississippi. In-state producers of such products are already eligible for the rebate. The maximum that can be spent on these "rebates" is $10 million per year on any one project, and $20 million on all projects combined.
Subsidies for Local Retail Developments
SB 2425 would provide a new method for the state to subsidize local retail developments. It would allow, for the first time, a county to receive a sales tax rebate (known as a "diversion") from the state. Currently, only municipalities receive such diversions. SB 2425 would specifically target the diversion to pay off bonds which Jackson County plans to issue using what's known as Tax Increment Financing (TIF). With a TIF, money that's borrowed for a retail development is paid back with the additional tax revenue generated by the new development. When cities use TIFs, there's no additional cost to the state, because the cities are paying off the bonds using a portion of the sales tax diversion they would normally receive anyway. But because counties don't currently receive sales tax diversions from the state, SB 2425 would result in the state, not the local government, paying off most of the TIF. Although this bill would only apply to Jackson County for now, other counties are viewing this as a new source of revenue for them in the future.
The Ugly
Subsidies/Bribes to Attract Graduates to Mississippi
Rather than address the underlying causes for Mississippi's "brain drain," where many of our college graduates leave the state and few come here from other states, HB 816 would bribe college graduates to live and work in the state for at least five years by offering them a rebate of the income tax they paid to the state for those five years. To qualify, the person would have had to graduate within the past two years from college or professional school. If the person holds a job for those five years, they would get 50% of their taxes back. They would get 100% back if they (a) purchase and own property in the state for residential or commercial use, (b) establish a business in the state that has at least one employee other than the individual, whose wages are subject to Mississippi Income Tax Withholding Law, and/or (c) serve as a licensed teacher in a public school or nonpublic school. (Fortunately, this bill, which passed the House, died in the Senate Finance Committee this week.)