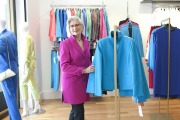 Label Looks Commanding but Doesn't Grab the Spotlight…Hazlehurst, Mississippi native, Nina (pronounced Nine-ah) McLemore is a weapon in the wardrobes of authoritative women.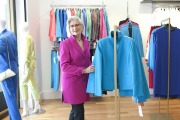 Christina Binkley at christina.binkley@wsj.com | The Wall Street Journal – Fashion Journal | July 2, 2014
Exiting a television appearance recently, Sen. Elizabeth Warren and PBS NewsHour co-anchor Gwen Ifill stopped and had a laugh. They were wearing nearly identical blue jackets by a designer named Nina McLemore.
Though she is little known in the wider world, Ms. McLemore's clothing is well-known in the circles of powerful women. Hillary Clinton wears her. So does PepsiCo Chief Executive Indra Nooyi, Federal Reserve Chairwoman Janet Yellen and U.S. Supreme Court Justice Elena Kagan. At least a quarter of female chief executives at Fortune 500 companies have appeared publicly in her clothes or shopped with the label, according to Wall Street Journal research.
Nina (pronounced Nine-ah) McLemore is a weapon in the wardrobes of authoritative women. To those in the know, the label's tailored clothes stand out for their richly woven fabrics, strong jackets with signature stand-up collars and brilliant colors.
Her success owes a lot to a paradox in women's fashion. Women hold more government and corporate leadership positions than ever, and workplace style is more varied, flexible and creative than ever—far from the gray man-style tailoring of the past. Yet the fashion industry has been focused on other markets, leaving women leaders underserved.
The Most Popular Fashion Designer You've Never Heard Of
Photo:Rebecca Greenfield for The Wall Street Journal
Many fashion labels are either too provocative or too outlandish for professionals. Party dresses and flirtatious blouses abound, often cut too short or too tight for the office. Labels like Escada, St. John and Giorgio Armani, which pioneered sleek, earth-toned business clothes in the 1990s, have lately struggled to modernize.
"Most luxury companies don't focus on the American professional woman," says Ms. McLemore. "There are many more wealthy non-working women in the world."
Hers is one of a few labels that seek out this sweet spot. She doesn't seek fashion editors' attention with runway shows, offer free clothes to celebrities, or pursue the clients who court the best-dressed lists. Instead, she produces a stream of timeless jackets, knee-length skirts, and slacks in road-worthy luxury fabrics and styles that are never revealing.
The rise of Mississippi-born Ms. McLemore comes at a time when femininity and color no longer signal a lack of authority. "I wear colors that men would never wear," says Eileen Crane, chief executive of California winemaker Domaine Carneros and another Nina acolyte. "But at the same time I'm wearing clothing that no one would mistake me for an assistant."
"You can tell immediately if someone is wearing Nina," says Christine Todd Whitman, former Environmental Protection Agency administrator, who wore the label in that job as well as her years as New Jersey's governor. She says she often bumps into women wearing "Nina," as clients often refer to the label, at professional functions.
To read more:  http://online.wsj.com/articles/the-power-of-nina-mclemore-1404344475