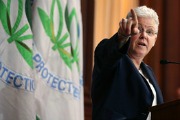 What Is the EPA Hiding From the Public?
The agency shouldn't get to decide who sees the science behind its rules. Open the research to outside analysis.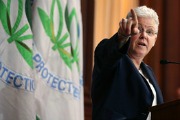 By Lamar Smith | The Wall Street Journal | June 23, 2014 6:45 p.m. ET
The climate is changing and, yes, humans play a role. But that does not mean, as Environmental Protection Agency Administrator Gina McCarthy would have us believe, that the debate—over how much the climate is changing, how big a role humans play, and what can reasonably done about it—is over. Still less does it mean that anyone who questions her agency's actions, particularly the confidential research it uses to justify multimillion and billion-dollar air rules, is a denier at war with science.
The EPA's regulatory process today is a closed loop. The agency funds the scientific research it uses to support its regulations, and it picks the supposedly independent (but usually agency-funded) scientists to review it. When the regulations are challenged, the courts defer to the agency on scientific issues. But the agency refuses to make public the scientific research it uses.
The House Science Committee will vote Tuesday on legislation to open up this closed loop. The Secret Science Reform Act, which I co-sponsored, has a simple goal: EPA regulations should be based on legitimate science and data that are open to the public.
Scientific journals in a variety of disciplines have moved toward data transparency. Ms. McCarthy sees this effort as a threat. Speaking before the National Academy of Sciences in late April, she defended her agency's need to protect data "from those who are not qualified to analyze it."
The EPA essentially decides who is or is not allowed access to the scientific research they use—research that is paid for with public funds, appropriated by Congress, on behalf of American taxpayers. This is wholly improper.
Photo: Environmental Protection Agency Administrator Gina McCarthy Getty Images
To read more: http://online.wsj.com/articles/lamar-smith-what-is-the-epa-hiding-from-the-public-1403563536