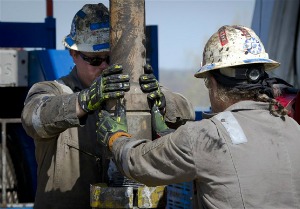 US to launch blitz of gas exports, eyes global energy dominance
The US Energy Department prepares a wave of LNG gas permits in the latest move to redraw the world's oil and gas landscape
The United States is poised to flood world markets with once-unthinkable quantities of liquefied natural gas as soon as this year, profoundly changing the geo-politics of global energy and posing a major threat to Russian gas dominance in Europe.
"We anticipate becoming big players, and I think we'll have a big impact," said the Ernest Moniz, the US Energy Secretary. "We're going to influence the whole global LNG market."
Mr Moniz said four LNG export terminals are under construction and the first wave of shipments may begin before the end of this year or in early 2016 at the latest.
"Certainly in this decade, there's a good chance that we will be LNG exporters on the scale of Qatar, which is today's largest LNG exporter," he said, speaking on the margins of the IHS CERAWeek energy summit in Texas.
Qatar exports just over 100 billion cubic meters (BCM), though Australia is catching up fast as the offshore Gorgon field comes on stream. It may pull ahead of Qatar later this decade.
Mr Moniz said the surge in US output from shale fracking has already transformed the global market. "We would have been importing a lot of LNG by now. Those cargoes would have gone elsewhere and have in fact had a significant impact in the European market," he said.
Gas frackers assembled at the world's "energy Davos" in Houston said exports could ultimately be much higher, potentially overtaking Russia as the world's biggest supplier of natural gas of all kinds.
"We're just fifteen years into a 150-year process," said Steve Mueller, head of Southwestern Energy, the fourth biggest producer of gas in the US .
The mile-deep Marcellus basin stretching from West Virginia through Pennsylvania to New York state is driving the explosive growth. Interlocking fractures in the rock make it possible for a single well with advanced technology to extract much more gas than thought possible just five years ago.
To read more: http://www.telegraph.co.uk/finance/newsbysector/energy/11563761/US-to-launch-blitz-of-gas-exports-eyes-global-energy-dominance.html
By Ambrose Evans-Pritchard, International Business Editor | Houston 8:08PM | 26 Apr 2015 |http://www.telegraph.co.uk/