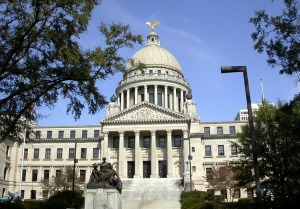 Upcoming session could be transformative moment for Mississippi education
By Steve Wilson  /   December 9, 2015 / watchdog.org
Supporters of school choice in Mississippi have gone from the edge of disaster to what could be an amazing opportunity for serious expansion of educational opportunity.
With a post-election near GOP supermajority in the Mississippi House and a sizable majority in the Senate, the mood is one of optimism among those who favor charter schools, educational savings accounts and other school-choice reforms.
Grant Callen, founder and president of pro-school choice group Empower Mississippi, said the election results
clearly show major support for school choice. His Empower PAC helped defeat four anti-school choice Republicans in the primary in DeSoto County, which has one of the state's top-rated public school districts.
"You have an opportunity like this once every few generations," Callen said. "We're at a moment in Mississippi history where the political leadership and the public are aligned in their desire for dramatic and transformational improvement to our educational system. Now it's time for the leaders to step up and deliver. My kids and your kids are going to look back on 2015 and say, 'That was the year when Mississippi lurched forward and got us out of last place in education.' "
Just a few months ago, the outlook was grim for school choice supporters. Advocates of Initiative 42 — which would have given the state's chancery courts oversight over spending and other issues — blanketed the airwaves with millions from two organizations outside Mississippi. The Nov. 3 vote was close, but the measure failed after 52 percent of voters cast ballots against amending the state's constitution.
Now it's just a matter of figuring out where to start.
One of the biggest tasks will be reforming the Mississippi Adequate Education Program funding formula, which determines how much each school district gets from the state. The brain-busting formula uses a variety of factors to compute what's called a base student cost. This is predicated on districts that received a C grade from the state Department of Education.
The formula, which has only been fully funded twice, always adds up to more than the Legislature is willing to appropriate for K-12 education. This fiscal year, the difference between what the Legislature allocated and the MAEP formula amount was about $250 million. Even with a smaller amount, K-12 expenditures accounted for more than 35 percent of the state's more than $6 billion budget.
Laura Hipp, spokeswoman for Lt. Gov. Tate Reeves, said changing the formula, passed in 1997, is one of her boss's biggest priorities in the Senate. She said basing the figure on what it costs to send a child to a C-rated district isn't a good benchmark, and A- and B-rated districts should be used instead.
"When it comes to improving outcomes for students, all ideas should be on the table, and that includes revisiting the almost 20-year-old school funding formula," Hipp said. "The goal of any education funding formula should be to ensure some level of funding equity while simultaneously … making targeted investments in what makes the most difference for students."
Callen said he wants to see the Legislature start funding students rather than districts, with the choice ultimately up to the parents where those education dollars are spent. He said the Special Needs Bill, which created a system of education savings accounts for parents of children with special needs, was just the first step toward creating this type of system; he said discussions have started in regard to expanding this program.
Related: Increased education spending doesn't always equal better results
Charter school regulation will get some attention, too. Charter schools are only authorized in districts graded D or F and can't serve students from outside districts. Callen hopes the Legislature will take a long look at expanding the legislation from 2013 to allow charter schools elsewhere in the state. The state's only two are in Jackson.
"What is great about charter schools is they give educational entrepreneurs the chance to do things they wouldn't otherwise be able to do at a traditional public school," Callen said. "These gifted educators can craft a program uniquely tailored to their student body. Charters can experiment to see what works on a relatively small student body."