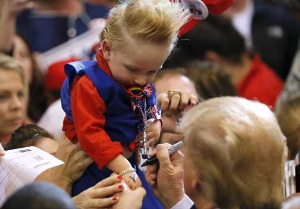 If you are dismayed by Trumpism, don't kid yourself that it will fade away if Donald Trump fails to win the Republican nomination. Trumpism is an expression of the legitimate anger that many Americans feel about the course that the country has taken, and its appearance was predictable. It is the endgame of a process that has been going on for a half-century: America's divestment of its historic national identity.
For the eminent political scientist Samuel Huntington, writing in his last book, "Who Are We?" (2004), two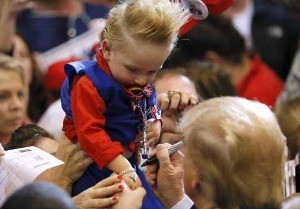 components of that national identity stand out. One is our Anglo-Protestant heritage, which has inevitably faded in an America that is now home to many cultural and religious traditions. The other is the very idea of America, something unique to us. As the historian Richard Hofstadter once said, "It has been our fate as a nation not to have ideologies but to be one."
What does this ideology—Huntington called it the "American creed"—consist of? Its three core values may be summarized as egalitarianism, liberty and individualism. From these flow other familiar aspects of the national creed that observers have long identified: equality before the law, equality of opportunity, freedom of speech and association, self-reliance, limited government, free-market economics, decentralized and devolved political authority.
As recently as 1960, the creed was our national consensus. Running that year for the Democratic nomination, candidates like John F. Kennedy, Lyndon B. Johnson and Hubert Humphrey genuinely embraced the creed, differing from Republicans only in how its elements should be realized.
Today, the creed has lost its authority and its substance. What happened? Many of the dynamics of the reversal can be found in developments across the whole of American society: in the emergence of a new upper class and a new lower class, and in the plight of the working class caught in between.
In my 2012 book "Coming Apart," I discussed these new classes at length. The new upper class consists of the people who shape the country's economy, politics and culture. The new lower class consists of people who have dropped out of some of the most basic institutions of American civic culture, especially work and marriage. Both of these new classes have repudiated the American creed in practice, whatever lip service they may still pay to it. Trumpism is the voice of a beleaguered working class telling us that it too is falling away.
Historically, one of the most widely acknowledged aspects of American exceptionalism was our lack of class consciousness. Even Marx and Engels recognized it. This was egalitarianism American style. Yes, America had rich people and poor people, but that didn't mean that the rich were better than anyone else.
Successful Americans stubbornly refused to accept the mantle of an upper class, typically presenting themselves to their fellow countrymen as regular guys. And they usually were, in the sense that most of them had grown up in modest circumstances, or even in poverty, and carried the habits and standards of their youths into their successful later lives.
America also retained a high degree of social and cultural heterogeneity in its communities. Tocqueville wrote of America in the 1830s as a place where "the more opulent citizens take great care not to stand aloof from the people." That continued well into the 20th century, even in America's elite neighborhoods. In the 1960 census, the median income along Philadelphia's Main Line was just $90,000 in today's dollars. In Boston's Brookline, it was $75,000; on New York's Upper East Side, just $60,000. At a typical dinner party in those neighborhoods, many guests would have had no more than a high-school diploma.
To continue: http://www.aei.org/publication/trumps-america/