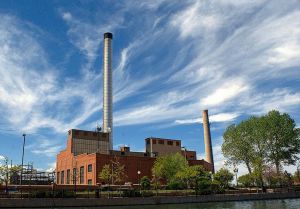 The strategy behind opposition to the EPA's Clean Power Plan
By Rob Nikolewski  /   August 7, 2015 / www.Watchdog.org
It appears that states looking to fight the sweeping new regulations imposed by the Environmental Protection Agency and the Obama administration are taking a two-pronged approach against the Clean Power Plan.
Whether the strategy will work is still unclear.
Calling the plan "the single most important step America has ever taken in the fight against global climate change,"
President Obama earlier this week released details on the Clean Power Plan mandating that power plants cut greenhouse gas emissions 32 percent by 2030 and calling on states to come up with their own, individualized, emissions reduction targets, starting in 2022.
Considered the cornerstone of the Obama administration's environmental policy, the Clean Power Plan marks the first federal measure to regulate carbon dioxide emissions from the nation's existing power plants.
But elected officials in some states — particularly those with large deposits of coal — are pushing back on a couple of different fronts: challenging the legality of the EPA rule and encouraging states to simply not comply with the plan by refusing to submit state implementation plans.
"Obama needs states to do his dirty work," said Thomas Pyle, president of the American Energy Alliance, an industry group fiercely opposed to the Clean Power Plan.
"The more governors say no thank you, the more this is going to force EPA to do things they don't want to do," said Charles Drevna, distinguished senior fellow at the Institute for Energy Research, a nonprofit that calls for free-market solutions to environmental challenges. "They don't want to take responsibility. They just want to tell states, hey, just go do it."
If enough states refuse to turn in state implementation plans, the thinking goes, the EPA will get so bogged down that the Clean Power Plan won't go into effect across the country until the president's term is up in 18 months.
Drevna points to the problems the EPA had updating its own renewable fuel standard. The 2014 numbers weren't released until earlier this year.
"The last time I looked at the calendar it was 2015," Drevna said in a telephone interview. "So if EPA thinks it has enough wisdom and manpower to send a (Clean Power Plan) for 50 states in the next year or so, you know what we say to them? Have at it."
Indiana's Republican governor, Mike Pence, has threatened to not turn in a SIP, saying the Clean Power Plan will decimate his state's coal industry and cause ratepayers' bills to spike.
In a conference call with energy reporters last month, Pence accused the Obama administration of using the Clean Power Plan to "address a climate agenda through a regulatory state."
Governors in Wisconsin, Texas, Louisiana, West Virginia and Oklahoma have indicated they would do the same and state cabinet members and attorneys general in states such as Michigan, Alabama, Mississippi and Wyoming expressed concerns about the 1,560-page plan that landed on their capital doorsteps early this week.
But there are political risks involved in the "No SIP" strategy.
If states do not submit individualized plans, then the EPA reserves the right to come up with its own plan for holdouts that figures to have much stiffer requirements.
That possibility led to officials in the administration of Republican Gov. Susana Martinez of New Mexico to announce this week it would submit a SIP.
"There's a lot of debate on the national level whether states should boycott the rule and refuse to comply," New Mexico Environment Department Secretary Ryan Flynn told the Albuquerque Journal. "But we don't believe that's a smart approach for our state, given the risks we'd face."
The administration of New Mexico's previous governor, Democrat Bill Richardson, didn't submit a state plan on federal rules concerning nitrogen oxide emissions and the feds ended up mandating nearly $1 billion in a haze-reduction plan at the state's largest coal-fired power plant.
"If you file (a SIP) now, you will cede any opportunity you had to fight this thing," Drevna told Watchdog.org. "You will, A) cede that EPA has the authority to do it and B) that it's the right thing to do. And our position is that is absolutely neither of those."
But Richard Revesz, director of the Institute for Policy Integrity at the New York University School of Law, thinks states that don't file SIPs are making a mistake.
"The states will lose certain flexibility if they end up having a federal plan imposed on them," Revesz told Watchdog.org."My guess is there will be states that will challenge the legality of the Clean Power Plan but will nonetheless prepare a state plan … because they will understand they are harming themselves by not doing that."
The other angle of attack for critics is taking the EPA and the Obama administration to court, saying the agency is overstepping its authority and doing an end-run around Congress.
"They pick and choose which section of a particular law that they think is applicable and then they disregard the other sections," Drevna said. "EPA does not have the legal authority to regulate how electricity is generated in a state and they don't have the legal authority to regulate it on a statewide basis."
But the EPA believes it's on solid legal footing.
"The Clean Power Plan follows our clear legal authority under the Clean Air Act," EPA press secretary Melissa J. Harrison said in an email to Watchdog.org just before Obama unveiled the plan's details. "The Supreme Court has decided multiple times that EPA has an obligation to regulate greenhouse gases."
Revesz, who supports the plan, is confident the EPA will win in court.
"All EPA is doing with this rule is shifting from more carbon-intensive forms of electricity production to less carbon-intensive electricity production and that's exactly its responsibility," Revesz said in a telephone interview.