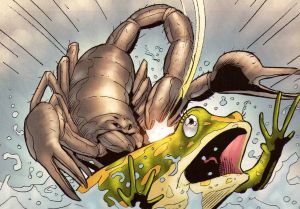 The scorpion and the frog
Kelley Williams, Chair, Bigger Pie Forum | August 3, 2015
A scorpion and a frog meet on the bank of a river.   The scorpion asks the frog to ferry him across, but the frog is afraid the scorpion will sting him.   The scorpion say he won't because then both would drown.   So the frog takes the scorpion on his back and starts swimming.   Sure enough half way across, the scorpion stings the frog.  As both are drowning, the frog croaks: " "Why?"  Scorpion hisses:  "Because it's my nature."
Substitute a Clarion Ledger editor for the scorpion and Bigger Pie's office manager for the frog.  The editor deceived our office manager and cherry picked my "It's still a good idea" to spin today's Sunday Clarion Ledger point/counter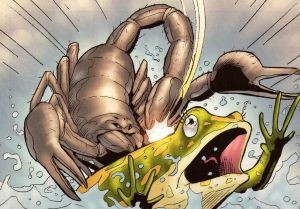 point article: "What should be done with Kemper plant?"  The editor wanted to use my article.   We said he could if he ran it unedited in its entirety.  Otherwise no.    We didn't want him to edit it to change the meaning.  He agreed not to edit it, but did it anyway.  We trusted him even though we suspected he was a scorpion.  Our instincts were right.  He was.  Our bad.   The intentional distortions conceal the disaster that Kemper really is.  They make it look like I think Kemper is a good idea.   It's not.  I don't.
The points of my article were:  One.  Kemper's combined cycle generating plants running on natural gas are a good idea because electricity from natural gas will be much cheaper (about $300 million per year) than from syn gas made from lignite.   Retail rates on natural gas would go up about 12% after recision of the illegal 18% increase ordered by the Supreme Court.   That's much less than the 40%+ the company has threatened.
Two.  The plants cost about $800 million and are generating electricity now from natural gas.   If they are deemed prudent (used and useful test) now at this cost and put in the rate base, they will generate electricity for under 6 cents per kWh from natural gas.  They are not a bargain because they are part of the politically motivated Kemper project which was not intended to be a bargain.    But they are an acceptable (least bad) alternative.  So they are still a good idea as we said two years ago.   Wishing they were a bargain and that Mississippi Power had built or bought them cheaper in the first place will not make them go away.    However, deeming them prudent and putting them in the rate base now will remove uncertainty for customers.   It will also move all the risk of the Frankenstein gasifier experiment to the company where it belongs.   It will separate the prudency decision on the turbines from the gasifier.   It will make the gasifier stand on its own bottom to justify prudency if it can.  (If you want to penalize the company because the turbines are not a bargain, you can put them in the rate base at, say $500 million.)
Three.  The gasifier is supposed to make syn gas to substitute for natural gas.  It was supposed to cost under $2 billion.  Its cost is now over $5.4 billion and counting.  If it is completed and the company eats all excess plant cost over $3.3 billion as it proposes, the cost of its electricity will be over 30 cents per kWh if it runs.   That's over five times the cost on natural gas.   The gasifier is supposed to start up next year.   It was also supposed to start up last year.   The company doesn't know when it will start up.   The company doesn't know if or when it will run commercially and reliably.   It's an experiment.  It's risky.  Customers should not bear or be concerned about this risk while it plays out.    Mississippi Power and its parent Southern Company, which ordered the gasifier built, should bear all the risk.   If it runs at some point, and if it's reliable and dependable, and if its syn gas is cheaper than natural gas, and if the cost of its electricity is competitive, then the company can file for prudency on the gasifier.   Not before.
Four.   Kemper is the biggest boondoggle in the history of the state.   But two heroes in this fiasco had the customer's interest at heart.  One PSC commissioner consistently voted against Kemper.   Customers owe him.  The real hero, though, is the private citizen customer who intervened before the PSC and appealed to the Supreme Court which rescinded the illegal rate increase and ordered the refund.   He made a difference.  Customers owe him for their upcoming Christmas present rate refunds.    Customers don't owe the legislature.  It passed the Base Load Act to make them pay construction interest on Frankenstein.   Customers don't owe elected officials either.  They stood by while the company and two PSC commissioners conspired to make customers pay for Frankenstein.
Carrying water for Kemper.  The Clarion Ledger is carrying Kemper's water.  It has benefited from Mississippi Power's advertising including ads denigrating Bigger Pie by Kemper supporters.  It concludes its point/counter point article with wishful thinking by the president of the utility backed Mississippi Energy Institute.  He said just wait ten years and Kemper's syn gas will look like a bargain (vs natural gas).
And you know you can believe that and trust the company.   Sure you can.   After all the company is a known expert on predicting natural gas prices, construction costs, demand growth, and other things.  In the meantime, don't worry about a $300 million yearly rate increase.  Just be happy.