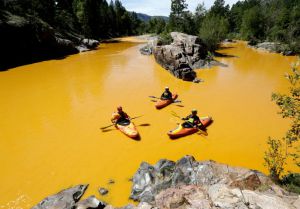 THE GOLD KING MINE FIASCO: WHAT IT TELLS US ABOUT THE EPA
POSTED ON AUGUST 19, 2015 BY JOHN HINDERAKER | ADMINISTRATIVE STATE, ENVIRONMENT | www.powerlineblog.com
We have written here and here about the EPA-caused spill of three million gallons of toxic liquid into the Animas River in Colorado. Private companies that have caused environmental disasters of that magnitude (or much less) have been criminally prosecuted; in some cases, individuals have been jailed. Will the EPA face similar accountability? Just kidding.
At Watts Up With That?, Paul Driessen has an excellent update on the Gold King mine disaster. This is what happened:
On August 5, an Environmental Restoration company crew, supervised by US Environmental Protection Agency officials, used an excavator to dig away tons of rock and debris that were blocking the entrance portal of Colorado's Gold King Mine, which had been largely abandoned since 1923. Water had been seeping into the mine and out of its portal for decades, and the officials knew (or could and should have known) the water was acidic (pH 4.0-4.5), backed up far into the mine, and laced with heavy metals.

But they kept digging – until the greatly weakened dam burst open, unleashing a 3-million-gallon (or more) toxic flood that soon contaminated the Animas and San Juan Rivers, all the way to Lake Powell in Utah. To compound the disaster, EPA then waited an entire day before notifying downstream mayors, health officials, families, farmers, ranchers, fishermen and kayakers that the water they were drinking, using for crops and livestock, or paddling in was contaminated by lead, cadmium, mercury and arsenic.
If a private company had been responsible, the EPA would have come down like a hammer. But not this time:
Anyone who follows mining, oil spill and power plant accidents knows the EPA, Obama White House and Big Green environmentalist rhetoric: There is no safe threshold for chemicals. They are toxic and carcinogenic at parts per billion. The water will be unsafe for years or even decades. Wildlife will die. Corporate polluters are criminals and must pay huge fines. We will keep our boots on their necks.

This time the White House was silent, and Democrats and eco-activists rushed to defend EPA and shift the blame to mining and mining companies. EPA officials made statements they would never use if a private company had caused the blowout: EPA had simply "miscalculated" how much water had backed up. It was just trying to stick a pipe into the top of the mine to safely pump liquid out for treatment. We were "very careful." Contaminants "are flowing too fast to be an immediate health threat." The river is already "restoring itself" back to pre-spill levels, EPA Administrator Gina McCarthy insisted.
The craven acquiescence of environmental organizations, which are completely in bed with the EPA, is disgusting. The accident appears to have been caused by rather blatant negligence on the part of the government:
The evidence strongly suggests that EPA never studied or calculated anything, had no operations plan vetted and approved by state officials or mining experts, was not trying to install a pipe – and was grossly careless and negligent. Toxic sludge was carried and deposited along hundreds of miles, contaminating water and riverbeds, where it will be stirred up for years during every heavy rainfall and snowmelt.

Mining engineers told me the prudent approach would have been to push or drill a 4-inch pipe through the rubble into the mine, to determine the water pressure, toxicity and extent of water backup in the mine – and then build a strong cofferdam below the portal – before proceeding. Simply removing the debris was stupid, dangerous and negligent, they said. It will take years now to correct the damage and assess costs.

To read more: http://www.powerlineblog.com/archives/2015/08/the-gold-king-mine-fiasco-what-it-tells-us-about-the-epa.php