THE GERMAN DISEASE: COMING SOON TO A COUNTRY NEAR YOU?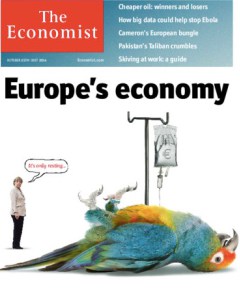 POSTED ON OCTOBER 27, 2014 BY STEVEN HAYWARD IN ENERGY POLICY
The cover of this week's edition of The Economist, nearby, combines a lot into a little. Above all, it has a Monty Python reference. You can never go wrong with a Monty Python reference.
Overseas the macro news is bad. Germany's sluggish economy may take the rest of the Eurozone down with it. Japan, which has been unsuccessfully fighting deflation for two decades now, has just issued bonds with negative interest for the first time. And low oil prices are likely to tip Venezuela into default and probably put its socialist government on the course of ultimate extinction. (I didn't say the news was all bad.  But a Venezuelan collapse could roil the economic picture quite a bit in the short run.)
The United States looks comparatively robust compared with other regions and nations. But not so fast. Back to Germany for a moment. If you think we can't still throttle the American economy with still more stupidity out of Washington, consider the New York Times article on Friday on why German chemical giant BASF is expanding in the United States rather than Germany: lower energy prices.
To read more: http://www.powerlineblog.com/archives/2014/10/the-german-disease-coming-soon-to-a-country-near-you.php