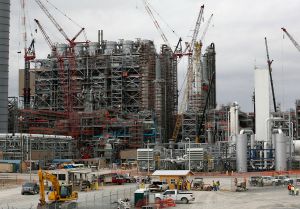 The $20 Billion in Bets Threatening to Sour Southern's Ties
by Mark Chediak | pdated on
By now, Southern Co. was supposed to be running a first-of-its-kind clean-coal power plant and preparing to start the first U.S. nuclear reactor to be licensed in more than three decades.
Instead, the utility owner's simultaneously grappling with the mounting costs of the thrice-delayed coal plant known as Kemper and setbacks in bringing its more than $14 billion Vogtle nuclear project online. They threaten to sour
Southern's relationship with regulators. On Thursday, it came before the state of Mississippi once again to approve costs for the $6.2 billion Kemper complex.
The mood is best summed up by Thomas Blanton, a 65-year-old oilman running as a Democrat for a seat on the state's Public Service Commission that regulates utilities: "I'm not going to let anyone take my money and give me nothing in return."
 Blanton's sentiment is spreading. And that has investors worried about a sea change in Southern's relationship with state regulators that once guaranteed such a steady rate of return that not a single analyst rated it a "sell" five years ago.
That was before Kemper, and before cost overruns at Vogtle. Before cheap natural gas and renewables began to undermine both projects. Before Blanton won a court case that forced Southern to return about $350 million to customers.
Kemper Writedowns
The owner of utilities in Mississippi, Georgia, Alabama and Florida has already taken more than $1 billion in writedowns for Kemper. And as of Thursday, nearly half of analysts recommended getting rid of Southern's stock.
Kemper and Vogtle were Southern's two bets on technologies thought to be at the leading edge of less-polluting power generation: clean coal and new nuclear. Today, a glut of shale gas and renewables have those gambles looking very expensive.
Investors in Southern face as much as a $2 billion risk as regulators consider cost-overruns for both of the projects, research firm Evercore ISI said in a note this week. Kemper's already on track to be the most expensive fossil-fuel power plant ever constructed. Earlier this year, a Mississippi utility partner backed out of a deal to buy a stake in the complex.
Southern is seeking $159 million annually in "emergency rate relief," to maintain operations, pay for gas generators at the Kemper plant and finally finish the project that'll turn coal into gas to generate power — all while capturing carbon dioxide blamed for global warming and injecting it into the ground.
No Cash
"We don't have cash flow today sufficient to finish construction of the project," Ed Holland, president of Mississippi Power, said Thursday during a regulatory hearing on the company's rate increase request. "We are about to run out of cash."
Michael Adelman, an attorney representing Blanton, said at the hearing that Southern was asking to collect money that it had been ordered to refund by the court.
"This is nothing more than a traditional shell game," Adelman said. "What is being taken away from the right hand is being restored with the left hand."
The commission approved Mississippi Power's plan to refund customers at its meeting on Thursday. The agency is expected to vote on the utility's latest rate increase at a meeting on Aug. 13.
Interim Rates
"We believe the facts the company presented will allow the commission to determine that interim rates are in the best interest of customers," the utility said in an e-mail statement.
Southern rose 1 percent to $45.06 Thursday on the New York Stock Exchange, paring its loss for the year to 8.2 percent.
"Southern has had a very good reputation as an operator and as a very well run, highly competent utility," said Paul Patterson, a New York-based analyst with Glenrock Associates. "This situation with Kemper is clearly a black eye."
To read more: http://www.bloomberg.com/news/articles/2015-08-06/the-20-billion-in-bets-threatening-to-sour-southern-co-s-ties