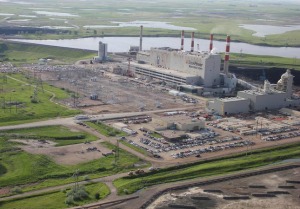 Technology to Make Clean Energy From Coal Is Stumbling in Practice
OTTAWA — An electrical plant on the Saskatchewan prairie was the great hope for industries that burn coal.
In the first large-scale project of its kind, the plant was equipped with a technology that promised to pluck carbon out of the utility's exhaust and bury it underground, transforming coal into a cleaner power source. In the months
after opening, the utility and the provincial government declared the project an unqualified success.
But the $1.1 billion project is now looking like a green dream.
Known as SaskPower's Boundary Dam 3, the project has been plagued by multiple shutdowns, has fallen way short of its emissions targets, and faces an unresolved problem with its core technology. The costs, too, have soared, requiring tens of millions of dollars in new equipment and repairs.
"At the outset, its economics were dubious," said Cathy Sproule, a member of Saskatchewan's legislature who released confidential internal documents about the project. "Now they're a disaster."
The utility that runs the project, SaskPower, and advocates for carbon capture argue that the setbacks are typical teething problems associated with any new and complex technology.
"Over time, as more companies, countries engage in carbon capture and storage technologies, the price for everybody is going to come down," Mike Marsh, the chief executive of SaskPower, told a legislative committee in January. "That will make it easier to employ."
The Boundary Dam Power Station sits near a wealth of resources not far from the North Dakota border.
Hundreds of years of coal reserves are buried under the ground nearby, virtually eliminating transportation costs. And the mining creates employment in an area with limited job prospects.
To continue: http://www.nytimes.com/2016/03/30/business/energy-environment/technology-to-make-clean-energy-from-coal-is-stumbling-in-practice.html?smprod=nytcore-iphone&smid=nytcore-iphone-share&_r=0