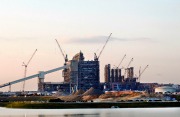 Switchover at Mississippi PSC could have consequences for Kemper
By Steve Wilson | Mississippi Watchdog | January 6, 2015
Photo Credit: Mississippi Power
The Mississippi Public Service Commission will be two-thirds new come November, which could have serious consequences for prudency hearings on Mississippi Power's oft-delayed Kemper Project.
The prudency hearings will determine who pays for the plant's cost: ratepayers or the company. If the PSC determines spending on the plant was justified, it'd be the ratepayers. Mississippi Power's 186,000 ratepayers in 23 counties in the southern part of the state are already paying 18 percent higher utility bills to fund the plant's construction, a function of the Baseload Act signed into law by former Gov. Haley Barbour in 2008. The law allows the company to charge its ratepayers for a plant that isn't even in operation yet.
The coal-gasification power plant known as Plant Ratcliffe and located in Kemper County in east Mississippi is designed to convert high-moisture lignite coal to a natural gas-like substance called synthesis gas to fuel its turbines. The entire project's costs have skyrocketed from $2.5 billion to its present price tag, $6.125 billion, after the company released an 8-K SEC filing on Jan. 2 that identified more than $25 million in additional costs from construction costs incurred during start-up. The report also identified an additional $20-$50 million for "construction, startup, operational readiness and combined-cycle operations" that might be required. Kemper has been producing power from natural gas since Aug. 9 and is scheduled to put the gasifier, which converts lignite into synth-gas, into operation in the first quarter of 2016.
The three-commissioner PSC that would rule on the plant's prudency is in a state of flux. The Northern District Commissioner, Democrat Brandon Presley, is announced he's running for a third term. The popular Democrat was considered the top choice to face Gov. Phil Bryant, but eschewed a run for the state's highest office.
One of the two Republicans, Central District Commissioner Lynn Posey, said he won't be running for a third term. Southern District Commissioner Steve Renfroe — who was appointed by Gov. Phil Bryant in 2013 to fill the unexpired term of Leonard Bentz — said from the outset he has no intention of running for a full term.
The actions of the PSC in regards to Kemper in recent months might've been an indicator changes were on the way. First, the PSC unanimously approved delaying prudency hearings Aug. 9 until the gasifier plant was placed in commercial operation and demonstrated its availability for a "reasonable period" to the PSC and the Public Utilities Staff, a separate body from the PSC. The PSC spun off the prudency of the plant's combined cycle plant, running on natural gas, into a separate filing.
A remodeled commission might not be any friendlier to Kemper, especially if Republican Mitch Tyner, a former candidate for governor best known for his leadership of State Sen. Chris McDaniel's challenge in the Mississippi U.S. Senate Republican primary, was elected. He told the Associated Press it's an "experimental technology and we're not certain if it will work or not." He'd be running to fill Posey's seat. Two other Republicans are considering running for the seat as well and the deadline to file for candidacy is Feb. 27.
State Rep. Cecil Brown already announced his candidacy and is calling for a complete review of "the Kemper Power Plant project and the Mississippi Baseload Act and its implications for future energy projects."
He voted yes on House Bill 1134 in 2013, which provided Mississippi Power up to $1 billion in a bond issue that was ostensibly designed to lower power bills from a 35 percent increase to one around 20-25 percent. He also voted for the Baseload Act in 2008.
No candidates have publicly declared a run for Renfroe's seat. Thomas Blanton, a Hattiesburg businessman who has filed a lawsuit challenging the constitutionality of the Baseload Act, said he might consider a run.