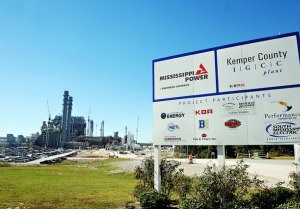 State supreme court rejects Mississippi Power's request for lawsuit rehearing
By Steve Wilson | June 11, 2015 | MississippiWatchdog.org
Mississippi Power's request for a hearing was denied by the Mississippi Supreme Court Thursday in a lawsuit brought by Hattiesburg businessman Thomas Blanton over rate increases to fund the Kemper Project integrated gasification power plant.
The court overturned the Public Service Commission's order to authorize the rate increases to fund the Kemper Project, required the PSC to inform the public on any hearings on future rate increases and other Kemper-related hearings and demanded the return of 18 percent increase to Mississippi Power's customers.
In the denial opinion issued by presiding justice Michael Randolph, the justice wrote "the commission did not balance the ratepayers' interests with those of the utility, as our law requires. An affirmation of the Commission's actions would constitute a grave injustice."
RELATED: Power increases could bolster Mississippi Power's bottom line
The original decision in the suit brought by Blanton — a candidate for the PSC's Southern District commissioner seat — threw out the rate increase on Mississippi Power's more than 186,000 customers in south Mississippi that was designed to fund the construction of the Kemper Project. The court cited the lack of prudency hearings on whether the construction costs of the plant were justified as one of its reasons for denying the increase. If the PSC ruled the added costs were prudent, Mississippi Power could pass those costs onto consumers in the form of rate increases.
The $6.219 billion plant is two years behind schedule and billions over budget and is designed to convert the state's abundant lignite coal reserves into a natural gas-like substance called synthesis gas, or syngas, to burn in its 582-megawatt electricity-generating turbines.
RELATED: Mississippi Power tries to persuade public with Kemper radio ad
The utility has filed a three-tier rate case with the PSC that could result in rate increases of up to 41 percent if approved by the commission and said it would withdraw the least costly option if the court denied its request for a rehearing.
If the most severe of the three plans, known as the "traditional" plan, was approved, the company's revenues from utility bills would skyrocket 41 percent in the first year over what the company collected in 2014, adding up to nearly $273 million. In the second year, the rates would increase an additional 19 percent — $395 million over 2014 revenues.
http://watchdog.org/223748/request-for-rehearing/