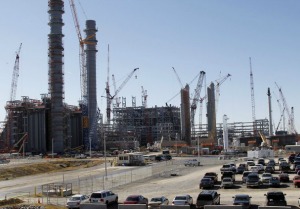 Southern's Risky Projects are Undercutting Profits and Stock Price
One of the great lures for investors to regulated utilities is that their monopolies give them strong, steady growth. Since their business is the generation of electricity, there's very little costly experimentation that soaks up profits like a sponge.
Southern Company decided to build an experimental "clean coal" power plant in Mississippi for its smallest and weakest financially subsidiary, lured by billions in federal government subsidies and tax credits. Mississippi politicians, led by then-Gov. Haley Barbour, further greased the skids with two bills. The first was the Base Load Act, which allowed the company to collect from ratepayers before the plant went into operation and would've opened the door for Entergy to build a new nuclear unit at its nuclear station at Grand Gulf. The second was called a special purpose entity, which allowed Mississippi Power to float up to a billion dollar bond that would be collected from ratepayers with a special charge on their bills.
The problem was the experiment. Southern arrogantly assumed that it could scale up from its experimental Wilsonville plant in Alabama that ran on Mississippi lignite fed at the rate of 5,600 pounds of lignite per hour for three test periods that totaled only 75 days to Kemper. The problem was Kemper was designed to run at a rate of 400,000 pounds of lignite per hour. Engineers call that scale up and it turned out to be a fail up, as the utility could never get the plant to run at a steady state without issues.
Now Mississippi Power will lose all of its federal funding and the special purpose entity, which requires the lignite plant to be operational by 2020. Investors will be left picking up the tab after the Mississippi Public Service Commission told the utility that ratepayers won't be responsible for the more than $3.5 billion left on the gasifiers and associated equipment.
Southern also lost big on adding another unit to its Plant Vogtle in Georgia, leaving investors further in the lurch. Both cases show why regulated monopoly utilities, to use a football adage, shouldn't be whizzing experimental bombs down field, but keeping at a slow and steady diet of safe running and short passing plays.
To read more about this risky project, click here