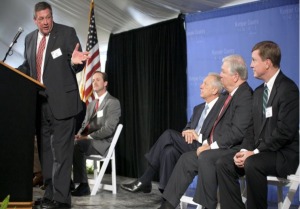 Southern Company to the MS PSC – It's Your Fault
The standard Southern Company excuse on why it bet big on an unproven technology predicated on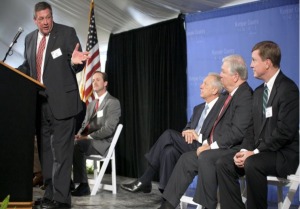 erroneous natural gas price projections and federal largess is "you ordered us to do it."
The "you" is the Mississippi Public Service Commission, which was once a reliable two of three vote rubber stamp for anything that Southern's subsidiary Mississippi Power wanted to do. Since every regulatory move from the commission is styled as an order, this a half-truth at best.
Mississippi Power told the PSC that it needed new generation capacity and said it needed to build a new plant. The commission gave them permission to go ahead, but didn't insist that they had to build a new power plant.
For Southern Company CEO Tom Fanning to blame the PSC for Kemper's more than $7 billion price tag and years of delays is buck passing of the worst sort. At any time, Fanning and the Southern board could've pulled the plug on the plant, which is now more than three years behind schedule.
However, they persisted and now want Mississippi ratepayers to foot a bill that could be $3 billion or more when all costs are examined by the PSC.  Read Dan Zegart's post about it here.