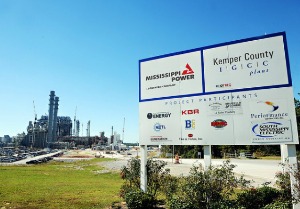 Southern Company sued by former CO2 customer over Kemper Project delays
By Steve Wilson  /   June 16, 2016  /  www.mississippiwatchdog.org
An enhanced oil exploration firm, Treetop Midstream Services LLC, is seeking $100 million and punitive damages from Mississippi Power's parent company, alleging in a lawsuit that the Southern Company committed fraud by misleading it on the $6.74 billion power plant's construction schedule when the two parties signed a carbon dioxide off-load contract.
According to the lawsuit filed in the State Court of Gwinnett in Georgia, Atlanta-based Southern Company
"intentionally misrepresented and concealed construction delays at the facility in order to remain eligible for hundreds of millions of dollars in federal tax credits and to prematurely and unjustifiably increase the rates they were charging customers."
Kemper was originally scheduled to be fully operational by May 2014 and will be more than two years behind if it goes online as the company now says in the third quarter of this year.
Related: Mississippi's Kemper Project in three charts
There were two companies that signed CO2 contracts with Mississippi Power: Texas-based Denbury Onshore and Treetop, a Ridgeland-based subsidiary of the Tellus Operating Group. The difference between the two contracts was in the amount of CO2 — Denbury was to receive 70 percent of it and Treetop receiving the remaining 30 percent — and in who paid for the CO2 pipelines. Mississippi Power paid $141 million to build a 61-mile CO2 pipeline to Denbury, while the lawsuit says Treetop paid nearly $100 million for the construction of its pipeline.
The two companies were to pump CO2 into old oil fields to tap previously economically unfeasible supplies.
Jeff Shepard, Mississippi Power spokesman, said the company cancelled its contract with Treetop on June 3 and that Denbury will be buying 100 percent of Kemper's CO2.
The Kemper Project is designed to convert high-moisture lignite coal mined on site into a natural gas-like substance called synthesis gas to fuel its electricity-generating turbines. The problem for Treetop is not that the plant isn't generating electricity, but that it is using natural gas rather than synthesis gas. Kemper is designed to remove 65 percent of the CO2 from the synthesis gas stream and with no gasification occurring, there is no CO2 to be sold to either party.
Related: SEC investigating Southern Company over Kemper Project
According to the lawsuit, Denbury executed its contract with Mississippi Power in March 2011, while Treetop's began in May 2011. The company's contract with Mississippi Power contained key three clauses:
Monthly progress reports on Kemper's operational start date beginning in 2013.
A requirement that Treetop complete its pipeline at least six months before Kemper's start date, which has slipped by more than two years.
An exit clause that allowed Treetop to walk away last May if CO2 wasn't flowing to its oil fields.
The problem was, according to the lawsuit, that the "Southern Company defendants concealed material facts from Treetop regarding the start date for the Kemper IGCC (integrated gasification combined cycle) facility. Moreover, had the Southern Company defendants been truthful with Treetop regarding the construction delays at the facility, Treetop never would have begun construction on the pipeline or preparing its oil fields for receipt of the facility's CO2."
The CO2 issue is heavily intertwined with both the facility's air pollution permit and federal tax credits. Because the facility doesn't have a large-scale carbon capture and storage facility, it has to off-load any CO2 produced by burning synthesis gas because the air permit has strict limits on the amount of CO2 the plant can release into the atmosphere. Also, the utility stands to lose millions in federal tax credits if the facility can't remove 65 percent of the CO2 from the synthesis gas stream.
Mississippi Power reported in a recent filing with the U.S. Securities and Exchange Commission that the agency is investigating the company on pre-2010 "accounting matters, disclosure controls and procedures, and internal controls over financial reporting associated with the Kemper IGCC (integrated gasification combined cycle)."
Another lawsuit was filed in April in Harrison County Circuit Court, alleging that Mississippi Power damaged its estimated 186,000 ratepayers by avoiding accountability for "fraud and mismanagement while fleecing the public in the interest of profits" in building the "goliath" Kemper Project power plant. It was a re-submission of a lawsuit that was filed in March and later dropped.