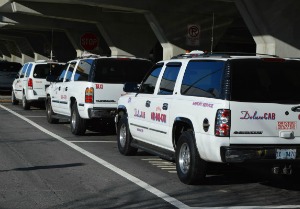 Revised taxi ordinance in Jackson could spell end of lawsuit
By Steve Wilson  /   March 14, 2016  / www.watchdog.org
The attorney for two taxi drivers suing the city of Jackson over its restrictive taxi ordinance says a revised version could bring a quick settlement.
The Jackson City Council sent to the Planning Board a revised taxi ordinance at a meeting Thursday that would put taxi companies under the same regulations as those for networked transportation providers such as Uber. The
proposed ordinance would end the city's regulation of the pricing structure, strike requirements on the number of taxis garaged in the city limits and simplify background checks on potential drivers. All three issues were part of the legal complaint brought by Mike Hurst, the president of the Mississippi Justice Institute and the attorney for the two drivers.
"The City Council has done well in drafting and introducing this," Hurst said. "We're hopeful this can pass and we can get a quick resolution to our lawsuit."
The suit was filed against the city last month by the Mississippi Justice Institute on behalf of a pair of taxi drivers who allege that the city's taxi regulations violate their civil rights.
Under the present ordinance, the permit for a new taxi company mandates that a company have at least eight cabs, with at least four of housed in the city limits, and provide the transportation permit and review committee with a statement of net worth. If a company has 10 or more cabs, all must be housed in garages within city limits.
Related: Restrictive taxi regulations throttle competition in Jackson
A cab company must have someone available 24 hours to answer service calls. The city also sets the fares drivers can charge per mile. As a result, taxi cab users pay more in Jackson than in other cities in the state. The city also mandates background checks, drug screenings and dress codes for drivers.
Jackson passed an ordinance last month governing networked transportation providers. It requires networked transportation companies to pay a $5,000 registration fee and an annual fee of $500 to operate within Jackson city limits. In a move that affects taxi regulations, the new ordinance removed the taxi company representatives from a voting position on the city board that approves taxi license applications.
Related: Jackson taxi drivers: 'We're tired of being held back'
"We did some regulations regarding networked transportation companies such as Uber," said Jackson City Council president Melvin Priester. "We realized at that time we had a lot of issues in regards to making a level playing field between networked transportation companies and our existing taxi companies.
"What I have proposed is an attempt to address some of the issues raised in hearings. We'll amend things as we see fit and come up with some that will be reflective of the best interests of the city of Jackson."