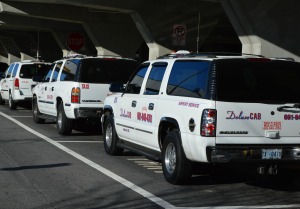 Restrictive taxi regulations throttle competition in Jackson
By Steve Wilson  /   December 15, 2015  / www.MississippiWatchdog.org
Shad Denson wanted to start his own taxi company, but the bizarre regulations in Jackson, Mississippi, kept him from that.
But he isn't giving up, holding out hope new regulations governing networked ride services Uber and Lyft present an opportunity for the City Council to consider overhauling regulations governing taxis.
Denson bought office space, which cost $12,000 for a year, before even applying for a license, in full compliance with the regulations. He got the appropriate insurance coverage and provided a statement of his net worth, again, in compliance with the regulations.
But the city didn't consider his application, so he drives as an independent, employed by one of the city's three cab companies that have a regulated monopoly over the taxi industry. He has to pay a fee to a cab company to continue serving customers. He gets little in return, with the exception of staying in business.
"As an independent taxi driver operating in Jackson, I'm nothing more than a sharecropper," Denson said. "I've been run from companies because I made too much money. The ownership of the cab companies have been able to get away with whatever they want for at least 25 years."
Changes to the taxi ordinance will be considered, council president Melvin Priester Jr. said at a meeting of the rules committee Nov. 30.
"The thrust of this was to do something for the Ubers and then do something for the taxi ordinance, because it needs to be cleaned up," Priester Jr. said at the meeting.
Related: Bernie Sanders uses 'unregulated' Uber for all his taxi rides
The Jackson City Council will govern taxi services and networked ride providers with separate regulations. The council will vote on the proposed Uber ordinance at a meeting Tuesday night. The ordinance would force Uber and other similar services to pay a $5,000 registration fee and a $2,500 annual operation fee.
Uber has threatened to leave Jackson if the council passes the ordinance.
Companies such as Uber and Lyft — which use mobile apps to summon and pay for rides — would undergo an application process, provide minimal insurance and allow the city the right to revoke a permit or suspend the licenses of individual drivers.
Related: The price of legalizing Uber, Lyft in Pennsylvania? A new tax
When it comes to cleaning up Jackson's now 15-year-old taxi regulations, the council may need some heavy-duty soap. To get a license to start a cab company in the city, one must have at least eight cabs, with at least four of housed in the city limits, and provide the transportation permit and review committee with a statement of net worth. If a company has 10 or more cabs, all must be housed in garages within city limits. A cab company must have someone available 24 hours to answer service calls.
With at least two representatives of the city's three taxi companies sitting on the primary licensing board in Jackson, the chances of a new company entering the fray are nil.
"Say, for example, I'm Walgreens, and I want to open up a store right across the street from a CVS," Denson said. "Imagine I had to ask CVS for their permission. It's not going to happen."
The city determines the pricing structure, mandates vehicle inspections, drug tests and even a dress code for drivers. According to a Mississippi Watchdog review of other cities' regulations on taxis, Jackson's prove the most restrictive.
Councilman Ashby Foote told Mississippi Watchdog the city of Jackson needs to get its ordinance right when it comes to network transportation providers.
"This is a real great opportunity to make great first impressions on people when they fly into the city and when they use their Uber app, and they expect to be able to call a ride," Foote said. "They have the option to call a cab, but a lot of the younger folks prefer to use Uber; it's user-friendly and comfortable for them. It's critical we get this right."
The Legislature will likely examine the possibility of a statewide regulation governing Uber and other networked transportation providers during its upcoming session, which starts in January.