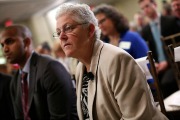 Republicans to Investigate Environmental Group's Influence on Carbon Rule
Did the EPA farm out the Carbon Rules to lobbyists like the President farmed out Affordable Care to Nancy Pelosi?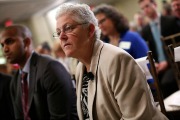 By CORAL DAVENPORT | www.nytimes.com | OCT. 10, 2014
WASHINGTON — Congressional Republicans are investigating whether the Obama administration improperly colluded with a prominent environmental advocacy group, the Natural Resources Defense Council, as the Environmental Protection Agencydrafted major climate change regulations.
The investigation, begun by Representative Darrell Issa of California, the Republican chairman of the House Oversight and Government Reform Committee, and Senator David Vitter of Louisiana, the top Republican on the Senate Environment and Public Works Committee, comes as Republicans continue a long-running effort to block President Obama's climate change agenda.
Mr. Issa and Mr. Vitter contend that the environmental group's influence on the Obama climate change rule was inappropriate. Their staff members are investigating whether in drafting the rule the E.P.A. broke the law, specifically the Administrative Procedure Act, which governs how agencies write regulations.
The proposed rule, now in a public comment period, would force American power plants to sharply curb carbon emissions, the chief cause of global warming. Mr. Obama announced the rule in June. If enacted, the rule could shutter hundreds of coal-fired power plants and stand as a defining element of Mr. Obama's legacy on fighting climate change. Republicans and the coal industry have attacked it as a "war on coal" that will raise energy prices and destroy jobs.
"The E.P.A. appears to have a far cozier relationship with N.R.D.C. lobbyists on carbon emission rule-making than with any other stakeholders," Mr. Issa said in a statement. "The N.R.D.C.'s influence on draft E.P.A. regulations raises substantial concerns about blurred lines and inappropriate influence."
As evidence, the lawmakers point to a series of friendly emails between the E.P.A. administrator, Gina McCarthy, and employees of the Natural Resources Defense Council, a powerful advocacy group with a long history of using lobbying and lawsuits to shape government policy. The emails show that the environmental group and the E.P.A. worked together on a series of policy and messaging moves meant to advance Mr. Obama's climate change agenda without action from Congress.
Republicans say the most vivid example of a cozy relationship is an email exchange between Ms. McCarthy and David Doniger, a lawyer for the environmental group, celebrating legal maneuvering that provided Mr. Obama with something both the E.P.A. and the environmental group wanted: a court-ordered deadline for release of a 2012 E.P.A. regulation curbing greenhouse gas emissions on future power plants — a precursor to Mr. Obama's announcement in June. (The environmental group had joined with others to sue the E.P.A. to force the regulation, and the E.P.A. quickly settled.)
On Dec. 23, 2010, the day the settlement was announced, Mr. Doniger emailed Ms. McCarthy, "Thank you for today's announcement. I know how hard you and your team are working to move us forward and keep us on the rails. This announcement is a major achievement." He added, "We'll be with you at every step in the year ahead."
Ms. McCarthy responded, "Thanks David. I really appreciate your support and patience. Enjoy the holiday. The success is yours as much as mine."
Reacting to the email exchange, Mr. Vitter said in a statement: "Who is working for whom? The key example in all of this is the settlement agreement on greenhouse gases when the N.R.D.C. sued the E.P.A., the E.P.A. settled, and the two celebrate the agreement. It doesn't get any more blatantly obvious than that."
Photo: Congressional Republicans point to emails by Gina McCarthy, the administrator of the Environmental Protection Agency.Credit Win Mcnamee/Getty Images
To read more: http://www.nytimes.com/2014/10/11/us/republicans-to-investigate-environmental-groups-influence-on-carbon-rule.html?ref=science&_r=1