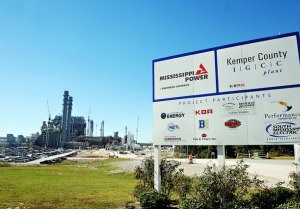 Regulators start court-ordered refund process for Mississippi Power
By Steve Wilson | Mississippi Watchdog | July 8, 2015
The Mississippi Public Service Commission has started a process to refund up to $350 million to current and former customers in south Mississippi.
The refunds are from Kemper Project-related rate increases, implemented by Mississippi Power.
The regulatory body voted 3-0 Tuesday to rescind an 18 percent rate increase, starting with the August billing cycle, which starts July 20. That could add up to between $335 million and $350 million in costs to the utility.
According to Mississippi Power attorney Ben Stone, a homeowner with a monthly power usage of 1,000 kilowatt hours will get $500 to $600.
The utility has 14 days to respond with a plan to comply with an order from theMississippi Supreme Court in a lawsuit brought by Hattiesburg businessman Thomas Blanton. The PSC, after it receives the plan, will hold a seven-day comment period before deciding on a final rule plan at the commission's Aug. 6 meeting.
But the rate decrease might be short-lived. Mississippi Power has already filed a request for a rate increase with the PSC to help fund the Kemper plant that could increase utility bills by as much as 41 percent. If the commission fails to act by Sept. 12, the utility says, state law allows it to enact the increase on its own.
Northern District commissioner Brandon Presley said he would have to speak with the PSC's legal counsel on whether the move is legal. But Blanton, a Democrat who is running for the soon-to-be-vacant Southern District commissioner seat on the PSC, said a rate increase to pay for a plant that had not received a hearing to determine whether costs are justified — a prudency hearing — would be illegal under the terms of the Mississippi Supreme Court decision.
"This three-tier rate is just as illegal as the first rate that was overthrown by the court for the very same reason: Failure to follow due process and give the ratepayers notice," Blanton said. "It's a failed document. They (Mississippi Power) admit the rate plan they filed contains the 18 percent CWIP (construction work in progress), and the PSC has ruled there will not be any CWIP until prudency hearings are held, which will be held after the plant is running.
"There's no way they legally raise rates until the plant is running."
Presley has been the commission's lone dissenter on rate increases. He proposed a motion, which later passed, to add accountability measures with the order to ensure every Mississippi Power customer gets an appropriate refund.
"I advocated a couple of things today," Presley said. "One that sets a clear boundary that the refunds either need to go back as a check or as a credit and not allow any other wiggle room or options for the company. The customer can decide if they want a check or they can determine how long they want a credit.
"Secondly, we have an auditing and accounting mechanism to make sure these dollars are properly returned to the people who paid them, and we have a final accounting that all of that work has been done and folks have gotten back the money they paid in."
The increase was passed in March of 2013 to help fund construction of the controversial Kemper Project power plant, which was designed to convert the state's abundant lignite coal reserves, mined nearby, into a natural gas-like substance called synthesis gas to burn in its electricity-generating turbines. Those turbines have been generating electricity using natural gas since August.
Southern District commissioner Steve Renfroe said he wants to balance the effects between the customers and the utility. He suggested a possible path for PSC that would allow Mississippi Power to collect additional revenue.
The PSC said in an order last August it wouldn't conduct prudency hearings until the plant goes into commercial operation. It also spun off the facility's turbines, running on natural gas since last June, into a separate filing.
"Kemper is nearly complete, and Mississippi Power has no mechanism to recover any costs for Kemper," Renfroe said. "The only thing we have on the table are two options that include about a 40 percent rate increase for both of those. We can't rule on anything that is not filed, and what I encouraged Mississippi Power to do is to give us another option.
"There is another possibility here and that is considering the equipment which is already in service — the combined cycle unit — which has been in service for a while and is producing electricity. That would reduce the risk of them ending up with no rate recovery in the near term."
In June, the court denied Mississippi Power's request for a rehearing, which might have overturned the original order.
The now-$6.229-billion plant is billions over budget, two years behind schedule and has sparked a series of lawsuits. It's slated to open in the first quarter of 2016.