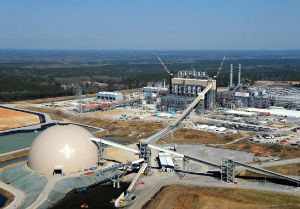 Regulators approve temporary rate increase for Mississippi Power
Steve Wilson | August 12, 2015 | www.MississippiWatchdog.com
After having one 18 percent rate increase rescinded, Mississippi Power customers will be hit with another same-sized increase by September after the Mississippi Public Service Commission voted 2-1 Thursday to give the utility emergency rate relief.
The 18 percent temporary rate increase is designed to cover the $1.1 billion in costs on the combined
cycle plant — which contains electricity-generating turbines, transmission lines and other associated equipment — and keep the company solvent. Mississippi Power CEO Ed Holland said in testimony last week the company would run out of money by November if rate relief wasn't granted.
Southern District commissioner Steve Renfroe and Central District commissioner Lynn Posey voted for the order, while Northern District commissioner Brandon Presley voted against it. The order is conditional on the increase being subject to a possible refund, the company filing a $50 million refund bond with the PSC and the possible credit infusion of $200 million by Mississippi Power's parent firm, the Southern Company.
The commission will hold a hearing Nov. 10 for permanent rates on the combined cycle and other working plant assets and will issue a ruling by Dec. 8.
The utility admitted last week the $159 million increase would, in part, go toward finishing construction of the controversial Kemper Project integrated gasification power plant. The price tag on the plant rose to $6.238 million after the company reported another $9 million cost increase in June. It's billions over budget and two years behind schedule.
The Mississippi Supreme Court ordered the company to refund $350 million in rate increases, the result of a lawsuit brought by Hattiesburg businessman Thomas Blanton. The original 18 percent increase was used to fund construction of the plant.
The court ruled the company could not collect rate increases before the PSC decides, in a prudency hearing, whether the spending on construction was justified. If the commission rules the utility's spending was justified, it could then pass costs on to customers via rate increases.
The gasifier, which converts lignite to synthesis gas, should be operational in the first half of 2016.
The PSC, in an order from last August, said it wouldn't take up prudency hearings on the Kemper project until it's placed into "commercial operation" and demonstrates its availability for a "reasonable period." With only Presley seeking re-election, a new PSC will get to deal with the costs of the gasifier.
RELATED: Chevron intervenes in battle over proposed Mississippi Power rate increase
A first-of-its kind "clean coal" power plant in eastern Mississippi, Kemper is designed to convert lignite coal into a natural gas-like substance called synthesis gas to burn in its turbines. Holland said in his testimony that the plant is a "dual-fuel" plant, meaning it's capable of generating electricity on either natural gas (720 megawatts) or synth-gas (582 megawatts).