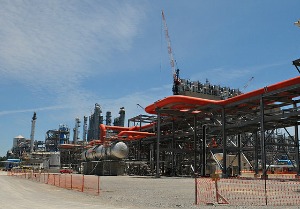 PSC opening access to more Kemper power plant documents
Documents regarding the $6.6 billion Kemper County Energy Facility will soon be easier for the public to access.
The Mississippi Public Service Commission on Thursday directed its staff to post on the commission's website executive summary updates detailing the power plant's construction progress. The plant is scheduled to open around August, said Jeff Shepard, spokesman for Mississippi Power Co.
The documents are available to the public, but have been subject to a public records request, he said. The commission also is determining if it can unseal records related to the plant that have been kept confidential.
The vote took place during a public work session where monitors and engineers reviewed the construction status of the Kemper County Energy Facility with the commission.
"There's so many people affected by it," said Cecil Brown, Central District commissioner for the Mississippi Public Service Commission. "It's good to hear our monitors confirm what we have heard before the people."
The Kemper County facility has run on natural gas since August 2014. An extension of the plant scheduled for completion in the third quarter of this year is designed to convert lignite, a type of coal, into a gas that will help create electricity in a process that has not been used previously.
Before certification, the plant was scheduled to start generating power from coal in 2013. Once certified by the Public Service Commission, Shepard said the plant was then scheduled to start generating power in 2014.
To read more: https://mississippitoday.org/2016/03/27/psc-opening-access-to-kemper-plant-documents/