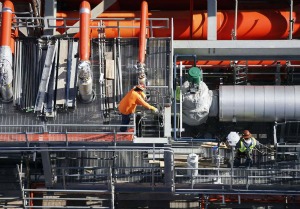 PSC OKs 15 percent rate increase for Mississippi Power
The Mississippi Public Service Commission approved a 15 percent rate increase Thursday for Mississippi Power, to help pay for the gas-fired portion of the Kemper plant that is producing electricity.
According to a release for Mississippi Power:
"Kemper rates will be reduced for residential customers by approximately $4.70 below the current interim rate increase for a residential customer using 1,000 kWh a month. This will be applied to bills beginning with the first billing cycle in January. (An 18 percent emergency interim rate was approved by the PSC after the Supreme Court threw out an earlier 18 percent increase that was based on the cost of the entire plant, which includes a gasifier that is supposed to convert lignite into syngas to fire the plant.)
"Mississippi Power will credit back to customers the difference between the interim rates collected since August and the permanent rates in the agreement. This will result in an approximate average $22 one-time credit to residential customers" bills within 90 days.
The company also is in the process of refunding the money collect under rate increase invalidated by the court.
"We want to thank the PSC and the Public Utilities Staff for their hard work in coming to an agreement with Mississippi Power on the in-service Kemper assets, which have been supplying customers with electricity for more than a year," Mississippi Power CEO Ed Holland said. "This ensures we can continue the progress we have made to bring the Kemper facility fully online. With this decision, Mississippi Power can proceed with some certainty and stability while providing our customers with safe, clean and reliable electricity."
The PSC also voted Thursday to approve a net-metering program that will lay the groundwork for rooftop solar and distributed renewable energy development across the state, according to a release from the Sierra Club. Mississippi had been one of only six states in the United States without a net-metering program.
The commission's decision will establish how rooftop solar owners can be compensated for extra energy they produce that is put into the power grid.