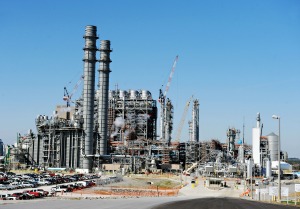 PSC commissioner: Regulators will examine Kemper Project safety
By Steve Wilson  /   March 22, 2016  /  www.mississippiwatchdog.org
Mississippi Public Service commissioner Cecil Brown says the Kemper Project clean coal power plant will be the biggest challenge facing the regulatory body in the coming months.
Brown said at the Stennis Institute's monthly luncheon at the Capital Club in Jackson that the PSC will be looking
extensively at safety issues with the first-of-its-kind plant, which is billions over budget and years behind schedule.
If the refractory coating on the gasifier fails, according to a report filed by an independent monitor in 2014, the 2,800-degree gas stream could burn through the gasifier's metal shell and cause a possible explosion. Kemper is designed to turn lignite coal into a natural gas-like substance called synthesis gas that is burned in the facility's turbines to generate electricity. The plant's gasifier, which converts lignite to synthesis gas, is scheduled to go online in the third quarter of this year.
"There are people out there who say Kemper is dangerous," Brown said. "I don't know about that, because I'm not an expert. I've talked extensively with Mississippi Power and I've raised that question and I've been assured that it is safe. They believe it is safe and it will work. They know they overspent, but they believe it will work as advertised and be successful."
Brown replaces Republican Lynn Posey, who declined to seek re-election and is one of two new commissioners along with Republican Sam Britton, who represents the Southern District. Incumbent Democrat and Northern District commissioner Brandon Presley, a long-time Kemper critic, is now the commission chairman.
Related: Kemper Project cost estimate increases by $7.3 million in January
A lawsuit was filed earlier this month in Harrison County Circuit Court by three plaintiffs — a Biloxi seafood processing firm, Island View Casino and a Gulfport resident — alleging Mississippi Power Co. damaged its estimated 186,000 ratepayers by avoiding accountability for "fraud and mismanagement while fleecing the public in the interest of profits" in building the "goliath" Kemper Project power plant.
Brown stopped short of specifics when asked whether the commission would take action against the utility if evidence surfaced of officials lying to the PSC about the plant's schedule. The plant was originally supposed to be in operation by May 2014 and a former project manager, Brett Wingo, says the company knew that the plant's construction timetable was falsified.
Related: Former manager: Southern Company lied about Kemper schedule
"If it was under oath, clearly, they've got problems," Brown said. "When you say they lied, you've got to prove whether they were lying or they just didn't know. If there is a substantial amount of misrepresentation, we're going to have to take a hard look at that."
Related: Lawsuit alleges fraud with Kemper Project
Brown, whose campaign was based on holding down utility rates, said a prudency hearing is the next step for Mississippi Power.
The PSC postponed prudency hearings with an order in August 2014, which will determine whether the plant's costs will be borne by the company and its investors or ratepayers until the plant is placed in "commercial operation" and demonstrates its availability for a "reasonable period."
The outgoing commission, in one of its final actions, approved a 15 percent rate increase to cover the parts of the plant generating power on natural gas. Brown says the company could ask for more rate increases to help recover the costs on building Kemper, which is limited by a $2.88 billion cap in the settlement agreement reached between the PSC and the utility.
"They'll have to come in with their evidence," Brown said. "You'd think they'd be able to turn on the plant, it'd kick up and it'd go. The way I understand it is, they're going to phase in the synth gas operation over five years. They may use 20 percent and that might be fine. Every time they ratchet up the amount of synth gas, presumably, things change.
"We've got a lot of questions out there and there is nothing to decide on. We're not going to impose anything on them because they haven't applied for anything."