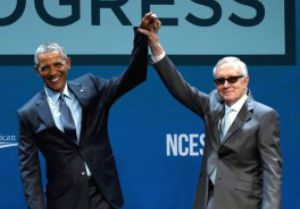 PRESIDENT OBAMA IS REBUKED BY A BETTER MAN
POSTED ON AUGUST 26, 2015 BY JOHN HINDERAKER IN BARACK OBAMA, ENERGY POLICY, THE WAR ON THE KOCH BROTHERS
The conventional wisdom is that Barack Obama is a nice guy but an incompetent president. I think this gives him too much credit. There is a reason why Obama is the most divisive president since the Civil War: he is, for a holder of that office, uniquely mean-spirited.
On Monday in Las Vegas, Obama launched a personal attack against those who disagree with his energy policies. He began by hailing the growth of solar and wind energy generation:
For all the promise of solar, it's still a small share of our economy in energy mix — less than 1 percent. Wind makes up almost 5 percent. But here's the thing: Solar made up almost one-third of all new generating capacity last year. Wind power made up another 20 percent. So we see the trend lines.
Obama failed to mention that solar and wind energy facilities are being developed not because they are efficient or cost-competitive, but because utilities are being required by law to generate energy from such sources. Consumers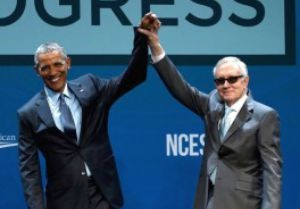 will pay more for electricity, and few of them will understand why. While nuclear energy actually makes sense, wind and solar are driven almost entirely by government favoritism.
Obama proceeded to invert that well-known truth:
But while change this fast presents new opportunities, it is invariably going to create resistance from some fossil fuel interests who want to protect the old, outdated status quo.
There is nothing "outdated" about the status quo, other than the old-fashioned cronyism that enriches "green" energy magnates. Fossil fuels are, and will continue to be for the foreseeable future, the world's most efficient means of generating energy.
But when you start seeing massive lobbying efforts backed by fossil fuel interests, or conservative think tanks, or the Koch brothers pushing for new laws to roll back renewable energy standards or prevent new clean energy businesses from succeeding — that's a problem.
This can only be intentional misrepresentation. Obama surely knows that Charles and David Koch are the most consistent of men. Far from having "pushed for new laws to prevent new clean energy businesses from succeeding," they have always sought a level playing field and open competition, free of government favoritism. Obama is no doubt aware that every year, the Kochs write a letter to every member of Congress, urging that corporate welfare in all forms be ended, and that all subsidies, including any that happen to benefit their businesses, be repealed.
To read more: http://www.powerlineblog.com/archives/2015/08/president-obama-is-rebuked-by-a-better-man.php