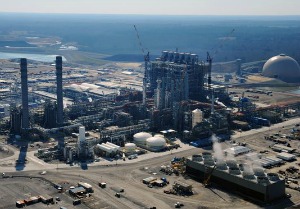 Power Co. aims for rate hike
Jeff Amy | Associated Press | July 10, 2015 | www.ClarionLedger.com
JACKSON Saying it's running short of cash and can no longer borrow without the support of its parent company, Mississippi Power Co. is trying again for a rate increase to help pay for the $6.2 billion power plant it's building in Kemper County.
The unit of Atlanta-based Southern Co. asked the Mississippi Public Service Commission on Friday to act within days to prevent an 18percent rate increase from rolling off bills on July 20. The $159 million-a-year raised by that rate had been going to pay for Kemper, but the state Supreme Court ruled it was illegal in February.
A residential customer using 1,000 kilowatt hours per month of electricity would see monthly bills stay at $144, instead of falling to $121. The average residential customer uses more power and pays more.
Adding to the financial pressure, the court ordered Mississippi Power to repay $353million to customers that it's collected over the past two years. Friday's proposal wouldn't affect refunds expected to be issued to customers by November.
Mississippi Power says the commission should grant the rate to pay for the $1.1 billion in assets, including gas turbines, already in operation at what it calls Plant Ratcliffe. The turbines are supposed to eventually burn synthetic gas from lignite coal, but they've been running on natural gas since August 2014, generating power.
Under traditional ratemaking rules, a power company can recover its costs for things it has built and put into service. Mississippi Power had planned to recover the cost of the turbines as part of the larger Kemper financing plan, but CEO Ed Holland told The Associated Press the company needs the money now.
"From a cash-flow standpoint, we are in a condition that we require rates to support the assets that are in service," Holland said.
If the Public Service Commission approves, an unusual proposal called interim rates would begin July 20, keeping bills the same. The commission would then examine the prudency of Mississippi Power's spending of the $1.1 billion. If that is approved, the rate would become permanent. If not, the company would have to repay what it collects.
Without higher rates, Holland said the company would run out of cash by November. Even with the 18 percent, Holland said Mississippi Power would run out of cash again by February or March.
To read more: http://www.clarionledger.com/story/money/business/2015/07/10/power-co-aims-rate-hike/29996975/