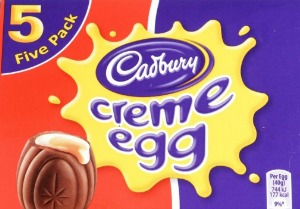 New Creme Eggs. A box of five Cadbury's Creme Eggs, London
BY RICK MORAN | MARCH 25, 2016 | www.pjmedia.com
How can you tell a civilization is dying? When they try to appease the Barbarians at the Gate.
For  a while, this tactic worked for Rome, which bought off various barbarian hordes so they wouldn't sack the city.
Unfortunately, some of those hordes eventually figured out that Rome was a paper tiger and would gratefully accept the ransom and then gleefully sack the city anyway.
What's happening in Great Britain as the dominant culture seeks to appease the unappeasable is that so much of what is being lost could have been saved if the powers that be actually believed in their own historic values.
Take away what made them great and they become less than ordinary, leaving themselves wide open to emotional exploitation.
What makes the previous somewhat relevant is that there is outrage in England over some candy makers taking the word "Easter" off their candy, especially chocolate eggs. In other cases, the word has been downsized considerably or put on the back of the wrapper.
Like Christmas, Easter can be celebrated as a secular holiday. Easter's timeless themes include the non-religious notions of rebirth and the arrival of Spring. But lurking in the background of our collective consciousness is the real reason we celebrate Easter — and for some newer arrivals in Great Britain, that simply isn't acceptable.
To continue reading: https://pjmedia.com/trending/2016/03/25/some-english-confectionaires-drop-the-word-easter-from-chocolate-eggs/