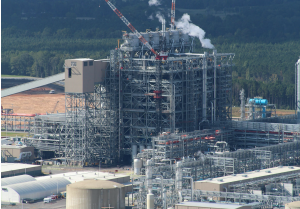 Near-Disaster Averted on Kemper Project
Southern Company CEO, Tom Fanning, raved about the progress with the Kemper Project on a third-quarter earnings call on October 31. Unknown to investors, he didn't reveal that the lignite plant narrowly averted disaster on October 13, just a few weeks before his remarks.
"As we moved through the startup process and we've knocked over these dominoes that you normally expect with the startup process, I think it has gone beautifully," Fanning said. "I think we're going to be able to demonstrate 'used and useful' very easily. This plant is going to work. It is working."
The near-disaster occurred when a pin fell out of an actuator on a rotary valve that prevents the coal feed system from depressurizing. When the valve failed, it allowed 1,750 degree synthesis gas to fill an area of Kemper not designed to cope with the hot synthesis gas. An explosion could've resulted, especially if the gasifier was running at its designed operational pressure.
The incident showed that Mississippi Power's rush to meet self-imposed deadlines for commercial operation of the gasifiers could lead to disaster. Running Kemper on natural gas would be a much safer and cheaper alternative than relying on untested technology filled with former Secretary of Defense Donald Rumsfeld called "unknown unknowns."
Read the entire article on watchdog.org